Posted 15th May 2018 | No Comments
East Coast announcement rumours grow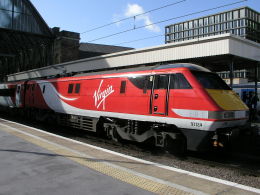 INDUSTRY insiders are predicting an announcement about the future of the Virgin Trains East Coast franchise, amid increasing speculation that a decision is imminent or could have already been made.
Transport secretary Chris Grayling originally revealed on 29 November that the franchise would only run until 2020, terminating three years early. It would have been replaced by a new 'East Coast Partnership' which would have included Network Rail.
But his position hardened within a couple of months, as persistent rumours that the franchise was in trouble were confirmed. It became known at the start of February that Stagecoach, which has 90 per cent of the franchise, was facing losses of £200 million after revenue had failed to meet expectations. Chief executive Martin Griffiths has since conceded that the franchise was known to be in trouble within weeks of its launch in March 2015.
On 5 February Mr Grayling warned that Virgin Trains East Coast was likely to fail within 'a very small number of months', triggering renewed criticism from the unions and opposition politicians. The RMT repeated its call for immediate and permanent renationalisation, while Labour's shadow transport secretary Andy McDonald accused the government of propping up a 'crumbling system'.
MP Lilian Greenwood, who chairs the Commons Transport Committee, said: "This failure – not once, but three times – has drawn criticism from all corners."
More recently, the Commons Public Accounts Committee has been scathing about the Department for Transport's handling of the crisis. On 27 April, it said the Department's management of the East Coast and Govia Thameslink Railway franchises had been 'completely inadequate' and could indicate 'wider weaknesses' in its ability to control franchises.
Analysis
Sim Harris
Mr Grayling has plainly been deferring an awkward decision, because his main choices are both distasteful. As it appears that the VTEC franchise cannot stay above water for very much longer, he can either accept the keys and run it from the Department for a while, or else he can agree a new management contract with Stagecoach and Virgin.
Renegotiation of the franchise terms is a third option which would mean reducing the size of the premiums, but the DfT has always maintained that 'a deal is a deal' and refused to rewrite existing contracts.
Returning East Coast to the management of a DfT-owned subsidiary will amount to renationalisation for the second time in less than a decade. National Express revealed that it was in trouble in the summer of 2009, and the franchise was transferred to the DfT's Directly Operated Railways in November. East Coast was not returned to the private sector until March 2015, when Stagecoach and Virgin took over.
A repeat of the DOR scenario would be highly embarrassing for a Conservative transport secretary, particularly as this one is trying to encourage the private sector to play a greater part in railway matters.
Since rewriting the contract appears to be impossible, the only other option will be a management contract, which would remove the commercial risk and simply mean that the present franchise-holders would continue to hold the fort in return for a fee until the franchise can be relet yet again.
It seems at least possible that the accumulating deficit on East Coast is about to force Mr Grayling's hand.