Posted 12th May 2016 | 14 Comments
Revenue threat on East Coast Main Line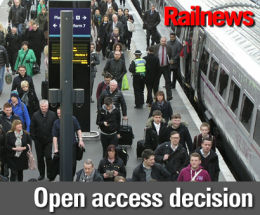 NEW open access services on the East Coast Main Line have been approved by the Office of Rail and Road, but a warning has been sounded that Virgin Trains East Coast's revenue could come under pressure as a result.
FirstGroup has succeeded in its bid to run trains between London and Edinburgh, with firm rights from May 2021. First was one of the runners-up in the 2014 competition to run the main intercity franchise on the route, which was won by a 90/10 consortium of Stagecoach Group and Virgin Trains and began in March last year.
Virgin Trains East Coast has also gained permission from the ORR to run additional services, but an application from GNER, part of Alliance Rail Holdings, was refused. Alliance said it was naturally disappointed, but also "pleased however that the ORR has recognised the benefits that further competition will bring, and we will re-visit our applications and continue to develop new proposals".
The new services will be introduced gradually, as capacity becomes available for additional paths following upgrades by Network Rail.
John Larkinson, the ORR's director of railway markets and economics, said: "These new train services will give passengers more choice on services to Edinburgh and London and provide more frequent trains to towns and cities which are not so well served by rail today.
"We thank all the applicants, Network Rail and other participants for their thorough input and engagement throughout this process.
"Our decision has been informed by extensive analysis, formal industry hearings and detailed engagement with all parties. We have carefully weighed up the potential passenger benefits and the financial impacts on existing operators and the government, as we are required to do by law."
Stagecoach Group said there would be new Virgin Trains East Coast services between London and Edinburgh, Harrogate, Lincoln and Middlesbrough. These services formed part of VTEC's bid for the franchise, which started in March 2015 and is planned to run until at least 31 March 2023.
VTEC's core existing timetable has been approved from December 2017 when the current access contract expires. VTEC has now been gained firm rights for service extensions to Bradford, Lincoln and Harrogate from May 2019, and for Edinburgh and Middlesbrough from May 2021. Should capacity become available more quickly, VTEC's additional rights for service extensions to Edinburgh could start from May 2019.
Meanwhile FirstGroup's East Coast Trains Limited will now begin operating five trains a day each way between London King's Cross and Edinburgh via Stevenage, Newcastle and Morpeth from 2021. First is promising that 'passengers will benefit from an average fare of less than £25, free Wi-Fi and on-board catering, all offered in one high-quality class of travel'.
First chief executive Tim O'Toole said: "We will offer genuinely low fares at half the average price of today, while adding significant benefits to the UK economy. Our brand new trains will be cheaper than other rail services, greener than the plane, quicker than the coach and will get passengers from London to Edinburgh earlier than they can arrive today."
However, Stagecoach warned that there could be financial consequences for the VTEC franchise when First launches its competing services.
Stagecoach chief executive Martin Griffiths said: "With respect to the decision on open access between London and Edinburgh, we do not believe the granting of these services within a franchised system and without a level playing field is in the best interests of passengers, taxpayers or communities.
"We will assess the ORR decision and implications in detail and review our options."
There is a long and sometimes turbulent history of open access on the East Coast route which goes back to the beginning of this century, when Hull Trains began operations. The entrance of Grand Central in 2007 was preceded by a major dispute between the main franchise holder GNER and the ORR. GNER, which was owned by Sea Containers, lost its case after pressing for judicial review of the rail regulator's decision to grant open access to Grand Central and surrendered its franchise at the end of 2006, although it continued to run services for almost another year.
Making the withdrawal announcement in December 2006, Sea Containers CEO Bob Mackenzie said: "Our original bid was bullish, but we were knocked sideways by the July 2005 bombings, the hike in electricity prices and regulatory approval for Grand Central, which will compete for our passengers calling at our stations on the same line, but will not have the same charges imposed upon them."
GNER's successor National Express also failed to stay the course, and the franchise was placed in public ownership in 2009 until VTEC took over last year. The situation remains fluid, although Stagecoach has denied recent fears, voiced by the RMT, that the East Coast franchise is losing money.
Reader Comments:
Views expressed in submitted comments are that of the author, and not necessarily shared by Railnews.
@ editor......
---------------------------------------------

....you are of course correct about who operates the East Coast franchise; but in the eyes of the customer, its 'Virgin Trains'; the current TV ad campaign is 'Virgin Trains'; (and is a 'generic' ad for both East and West Coast services); and Richard Branson/ Brian Souter et al, want the public to believe its a 'Virgin Trains' network.

'Virgin' now has a monopolistic position on London-Scotland, and I for one welcome the planned 'First' London-Edinburgh service. We need something similar on London-West Coast-Glasgow, and more competition of London-Manchester

Virgin makes me sick to my stomach sometimes.

When Branson was developing his fledgling airline at Heathrow; all we heard from him was abuse of British Airways and their 'monopoly' position. It was crucial that "Heathrow had more competition" he bleated endlessly.....

Now he operates both East and West Coast franchises commanding a near monopoly on London-Scotland, and now 'Virgin' is whining about competition.

The East Coast franchise shold never have been awarded to Virgin IMO....
[Just for the record, I should perhaps add that the Intercity East Coast franchise is almost entirely owned by Stagecoach Group (90%). Virgin has the other 10% but has lent its brand to the operation.--Editor.]

Yes, I concur with Jake - let's allow "real" competition between commercial operators on mainline / intercity routes whilst using public ownership for the natural monopoly operations with captive markets ( typically commuter and short-distance ) .

The only thing I'd want to add is to have the publicly owned operations as local co-operatives , made accountable to their stakeholders through directly elected local managers ( independent of government ). rather than through traditional nationalisation.

James Palma. Ain't gonna happen, Grand Central tried that, made a big thing of it, and it didn't work and they switched to the same system as everyone else.

Long-distance trains are the same as airlines: demand is managed by selling cheaper tickets for less busy trains. I'll take the criticisms of the current system seriously when the same standard is applied to air travel, but when was the last time you heard someone complain about a rip-off £560 return flight from Edinburgh to London because you turned up as business peak without a ticket?

The key reports on ORR's website show that GNER's Cleethorpes via Doncaster application was almost approved, but GNER said they couldn't justify the trains for that service without inter working with their Bradford via Leeds application.
Network Rail can't guarantee finding the capacity for all the approved applications before 2021.

I wonder what the actual fares will be.

A shame other companies dont follow chilterns example and have set fares whenever you book.

I do not know anyone that wants or even likes the current way of booking tickets.

The warnings of VTEC point to the fallacy of franchising being in the consumers interest. Wasn't that what it was originally designed for, or was it all for the financial interest of the franchise holders? Good luck to the new operator - it is reminiscent of the changes budget airlines made to short-haul flights, Shame it is only happening several years hence and it's time to bring logic back to rail transport - take it all back into public ownership as it should be a public service.

Given that the Virgin East Coast franchise specification has been built around the DfT specified IEP train offer it would have been rather embarrassing if ORR hadn't approved the train paths.

However as the ambitions of Open Access competitors have long been flagged up it is to be hoped that Virgin/Stagecoach & the DfT would have made due allowance in their financial predictions when making the successful award.

Then again as the experience of GNER & NX on the ECML has shown past financial experience with the route has not necessarily fed into further financial expectations.

This is a positive step, but not far enough.

We need to have two systems in the UK, a fully nationalised not-for-profit service run on local lines where competition wouldn't be feasible, and then a fully free market for all operators to compete on the lucrative high-demand inter-city routes such as the ECWL, WCML, MMML and GWML, rather than the privatized-yet-regulated-franchisesd half way house across the whole network that meets neither need,

Alliance's plans to run services under the name "GNER", adding more services to the ECML so more people could have been connected to London, should have been given the green light! The ORR do like to reject plans which would benefit people, but I do wonder if they thought the capacity would not have been available for those services as yet, taking into consideration the plans will be looked at again at a later date?

Are Stagecoach having a laugh about competition?It didn't bother them when they drove municipally owned bus companies out of business

Hang on a sec - VTEC and the DfT said services were going to go to Middlesbrough from 2019. Where's this 2021 start date come from?

There's a long-standing gripe that Middlesbrough is treated as the poor cousin of the north-east. Except a lot of complaints from Teesside if this isn't addressed quickly.

Doesn't this just underline the flawedness of competition between players working to different regulatory and subsidy/premium bases ,and indeed of the whole franchising concept ?

Personally, in common with the long term conclusions of the recent Competition and Markets Authoruty report, I feel competition should be between operations, on an ongoing basis , not for fixed term monopoly franchises.