Posted 2nd March 2015 | No Comments
Virgin promises new £3m East Coast fund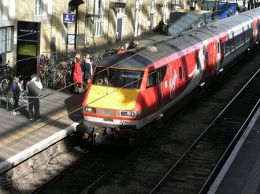 VIRGIN and Stagecoach have launched their East Coast franchise this morning with rail minister Claire Perry joining managing director David Horne at London King's Cross. The first train to bear the new livery throughout has formed the 11.00 from London to Edinburgh, and its departure marks the conclusion of a long-running campaign by Virgin Trains to take over on the East Coast route.
Rail minister Claire Perry was challenged during the launch to justify the return of the franchise to the private sector, and she responded with a robust reply, pointing out that the £140 million of investment which the new franchisee has pledged could not have been forthcoming from public resources.
The investment will include £21 million to refresh the existing fleets before the arrival of the first Intercity Expresses in a couple of years' time.
Ms Perry said: "Today is the start of a new chapter for the East Coast franchise. Passengers will benefit from thousands of extra seats, new connections and improved services between London and Scotland. The deal also means more than £3 billion will be returned to taxpayers.
A further £3 million of funding was also announced, which will be for the benefit of 'customers and communities'.
Managing director David Horne said: "Passengers using the ECML are already set to benefit from hundreds of millions of pounds of infrastructure iand service mprovements. Our new fund builds on that but puts the decision-making power firmly in the hands of the communities we serve. The fund allows Virgin Trains East Coast passengers to shape the future of their line."
The new franchise runs until March 2023, plus a possible one-year extension. The majority partner is Stagecoach Group, with 90 per cent. Virgin has the other 10 per cent.