Posted 9th September 2014 | 3 Comments
East Coast profits and passenger numbers up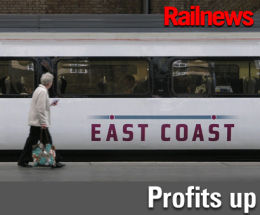 THE nationalised Intercity East Coast franchise has reported a rise in profits to £225.3 million before tax. The comparable figure last year was £208.7 million.
The fifth Annual Report from East Coast's owner Directly Operated Railways also records that East Coast paid premiums and dividends of £216.8 million to the Department for Transport in 2013-14, up from £202.8 million in the previous year. After the premiums had been paid, East Coast retained a profit of £8.4 million before tax, up by £2.5 million.
East Coast provided 19.9 million passenger journeys in 2013-14, an increase of 4.5 per cent on 2012-13.
Directly Operated Railways is a subsidiary of the Department for Transport which was created to take over the management of passenger operators which return to public ownership. In the case of East Coast, DOR took over from the previous franchise-holder National Express Group in November 2009, after revenue failed to meet expectations and NXG was unable to meet its commitments.
The return of East Coast to the private sector has been delayed more than once. In November 2009 the transport secretary Lord Adonis spoke of a two year term in public ownership. Instead, East Coast has been run by DOR for more than twice as long.
It is now set to return to the private sector in March next year. The shortlisted bidders were announced in January. They are FirstGroup, Keolis/Eurostar and Stagecoach/Virgin.
The increase in profits and premiums is likely to be seized upon by unions and transport campaigners who want East Coast to stay in public hands. There is also speculation that a 'yes' vote in the imminent Scottish independence referendum could affect the franchising process, although the Government has remained adamant that it will reprivatise East Coast before the general election next May.
Unusually, the operator will pass to the successful bidder as a going concern, with the existing legal entity East Coast Main Line Company Limited remaining in control under new owners. DOR said it was working to "ensure a seamless handover to a new franchisee of a business in sound commercial and financial health".
DOR chairman Doug Sutherland said: "During the year, we continued to make further good progress with the business turnaround of East Coast, and at 91 per cent, we were able to achieve the top customer satisfaction result for a long-distance franchised rail operator, in the 2014 spring wave Passenger Focus National Rail Passenger Survey, matching the result of the autumn 2013 survey.
"East Coast has continued to improve the journey experience for its customers during 2013/14 through various new initiatives. These included the development of a brand new station at Wakefield Westgate, opened at the beginning of 2014 by the Transport Secretary, the refresh of the Standard Class catering offer, the launch of a new uniform for staff, and other significant investments in the on-board environment of its train fleets and station facilities. A project to upgrade the on-board Wi-Fi service was also started during the year and completed during the first quarter of 2014/15.
"As part of the DfT's franchise direct award programme, DOR continued to undertake contingency planning relating to potential transfers. This work remained a significant part of the activities of the core team at DOR during the year, with the aim of minimising costs for the Government, whilst providing a credible capability to take over any franchise, if required at reasonably short notice."
A spokesman for the Rail Delivery Group added: "Directly Operated Railways has done a vital job of operating the East Coast franchise until it is re-let, but as the rail regulator has stated, the differences in train operating costs mean financial results cannot be used in isolation to draw conclusions about the performance of individual operators.
"However, it remains the case that East Coast is just one of a number of operators making payments to government. Latest figures for 2013-14 show the biggest payment was made by private operator South West Trains, which paid over £300 million."
Reader Comments:
Views expressed in submitted comments are that of the author, and not necessarily shared by Railnews.
Which begs the question 'If it aint broke,why fix it?' how much longer is the Government and Rail Industry going to admit that the Privatisation of BR was and is an uttet disaster?

So question is who will get these profits next time ?

A foreign rail company like DB or a bus bandit like first ?

This smacks of a re-run of the rush to privatise the railways ahead of the 1997 general election by John Major .

So why can't DOR be set up as a separate state owned company no different to DB or SNCF with ability to bid for rail franchises both here and abroad ?

I suppose these profits will buy a load of champers at share holder meetings like those that Railtrack used to serve...

You report a 4.5% increase in Business. How does that compare to WCML or the First Groups Great Western line ? If they are better then it would seem there's something that needs to be learnt from ECML. If less, than it would seem to indicate Commercial Firms do give better service and more Passenger focussed. But it doesn't matter who owns or runs lines or firms - are they Customer Focussed from start to end ? Unfortunately the problem in Railway Finances is the 'Elephant' - ie the Government who always wants to be paying less and less towards the running of the Railway, and Railway Pensions in particular, and that will always scew any Financial Results.