Posted 10th December 2014 | 6 Comments
Controversial East Coast contract signed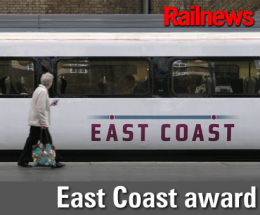 (STORY UPDATED 09.58)
THE Department for Transport has confirmed that it has signed the East Coast contract with Inter City Railways, a joint venture between Stagecoach Group and Virgin Trains. Labour has condemned the signing as a 'betrayal'.
The award of an eight-year franchise was announced in late November, but could not be legally completed until a 'standstill' period had expired.
The new operator will pay the Government roughly £2.3 billion in premiums at present day values, or £3.3 billion when adjusted for inflation. It has also undertaken to invest £140 million in upgrades to stations and the existing fleet. From 2018 the first of 65 Intercity Express trains, to be assembled at Hitachi's factory in Newton Aycliffe, County Durham, will be entering service, with all the new trains due by 2020.
The winner had beaten FirstGroup and a consortium of Keolis and Eurostar, and will now begin talks with Network Rail and the Office of Rail Regulation over plans to run new direct services from London to Sunderland, Middlesbrough and Huddersfield.
It will also seek approval to run more trains to Edinburgh, Leeds, Lincoln, Shipley, Stirling, Harrogate and Bradford.
Stagecoach Group has 90 per cent of the new operator. The Group's chief executive Martin Griffiths said: "While the franchise officially begins in March next year, our team are already planning ahead to build on the strong pride, heritage and success at East Coast. In the coming months, we will be working closely with employees and the management team to ensure a smooth transition to the new franchise. Stagecoach and our partners Virgin see investing in people and delivering great customer service as key to the future. We look forward to welcoming staff into the Stagecoach and Virgin family and making Virgin Trains East Coast a huge success."
Unions and other campaigners had opposed the award, saying that Intercity East Coast should have remained in the public sector. It had been operated by DfT subsidiary Directly Operated Railways since November 2009, when National Express had surrendered the previous franchise because revenues had fallen short of expectations.
Labour shadow transport secretary Michael Dugher said: "This decision is a betrayal of taxpayers and the travelling public. It's ridiculous that our own public operator was barred from running to continue to operate the line. Labour has called for a wholesale review of the franchise process. A different approach is needed – one that puts the public interest first, reverses the presumption against the public sector and properly stands up for passengers."
Reader Comments:
Views expressed in submitted comments are that of the author, and not necessarily shared by Railnews.
The extension FGW received was more to do with the massive disruption the GWR is currently undergoing with projects like Crossrail, electrification, new trains and Reading Station rebuild and the mess this government made of rail franchising on coming to power !

This tendering of ECML is simply a repeat of rush to privatise railways ahead of certain defeat at 1997 election , which shows how confident TORIES really are about next years election !

British Rail was a disaster - their staff were known for outstanding 'rudeness' and their Station Catering was bottom in every class (on board was much better). The Public used to criticise other firms rudeness by saying 'so you've been trained at the British Rail School of Charm'. BR was all 'Speed Restrictions' and 'Line Singling'. Maybe the current system is not perfect but its 100 times better than what we had.

"Funny how FGW got an extension without even asking yet East Coast whi put millions back into the tax box wasnt."

First Great Western has paid £531m to the government since 2008.

Funny how FGW got an extension without even asking yet East Coast whi put millions back into the tax box wasnt.The last decent main line has now joined the others in the pits,question is how to get up to the North without making Branson and Co richer.
Whe will people wake up and smell the coffee,the Privatisation of BR was and still his a disaster in every way,except for the likes of Branson.Souter,O'Toole and co.

March, eh? I'd better start using up all my Rewards points.