Posted 27th November 2014 | 11 Comments
Labour tried to stop controversial East Coast award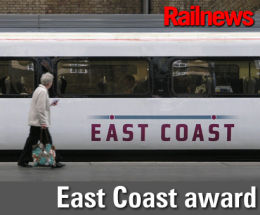 A PARTNERSHIP of Stagecoach and Virgin Trains has been awarded the East Coast franchise, after almost a year of consideration by the Department for Transport.
The winners have beaten two other bidders -- FirstGroup and a consortium of Keolis and Eurostar. Stagecoach and Virgin have welcomed the news, while FirstGroup said if it had been selected it would have created a "world class railway".
But the RMT has condemned the decision as 'an act of utter betrayal: a national disgrace', while it has been revealed that Labour tried to have the award process suspended.
The new franchise will start in March 2015 and is planned to run until 31 March 2023, with the option for a one-year extension at the DfT's discretion. It includes a commitment to pay £2.3 billion in real terms in premiums.
The eight year contract includes 23 new services from London to major destinations, with 75 more station calls a day, accompanied by plans for new direct links to Huddersfield, Sunderland, Middlesbrough, Dewsbury and Thornaby. There are also proposals for more trains to London from Bradford, Edinburgh, Harrogate, Leeds, Lincoln, Newcastle, Shipley, Stirling, and York.
The Department for Transport said there would be 3,100 extra seats for the morning peak by 2020 and a total of 12,200 extra seats during each day, doubling present capacity.
Hitachi-built Intercity Express trains will come into service during this franchise, consisting of 500 vehicles.
Journey times will be cut between London and Leeds by 14 minutes and London and Edinburgh by 13 minutes.
The franchisee has undertaken to invest £140 million in trains and stations.
Transport secretary Patrick McLoughlin said: "This is a great deal for passengers and for staff on this vital route. It gives passengers more seats, more services and new trains. We are putting passengers at the heart of the service. I believe Stagecoach and Virgin will not only deliver for customers but also for the British taxpayer.
"This government knows the importance of our railways. That is why they are a vital part of our long term economic plan, with over £38 billion being spent on the network over the next five years.

"We looked at the whole of the bid, and this was the best of the three. It is estimated that the franchise will yield £3.3 billion in premiums during its eight years. That was one reason for awarding the contract to Stagecoach and Virgin, but not the only one. There are to be major improvements for passengers too."
Mr McLoughlin's premiums figure appeared to be quoted in actual cash rather than real terms value, which will be about £1 billion less.
The winning consortium is led by Stagecoach, with Virgin Trains taking a minority share of 10 per cent.
Stagecoach Group chief executive Martin Griffiths added: "A passion for customers, employees and the community is at the heart of our plans for the franchise. We want to build on the quality and pride of the people who will be joining our team.
"We have some fantastic ideas to deliver a more personal travel experience for customers. Investing in the committed people who will make that happen is a big part of our plans, giving opportunities for them to develop and grow into more senior roles. At the same time, we have developed major programmes to help young people, communities and small businesses along what is one of Britain's major rail routes."
Virgin Group senior partner Patrick McCall also welcomed the decision, saying: "We're delighted to have been chosen to run the East Coast franchise. Our long term partnership with Stagecoach has seen a revolution in customer service standards, great product innovation, reduced journey times and improved timetables on the West Coast mainline. We plan to deliver similar success on the East Coast and are looking forward to working with the team there to build on their achievements.
"Our partnership will concentrate on areas for which Virgin is famous, such as looking after our customers and our people. We have a great opportunity to blend the successes of the East Coast and the West Coast lines to create a great experience for all. Together with these new ideas and initiatives, passengers will begin to see those Virgin touches on each and every journey."
FirstGroup chief executive Tim O'Toole has reacted to his company's third franchise defeat this year, having already lost both ScotRail and First Capital Connect. He said: "Our bid for the East Coast franchise was ambitious yet realistic. Had it been selected, it would have created a world class railway for passengers and value for taxpayers with a balanced level of risk and returns for shareholders.
"As one of the UK's most experienced operators, we remain committed to the rail market but we are dissatisfied not to have secured any of the franchises that have come up for tender in this first round.
"Whilst we will retain a disciplined approach to bidding, we will continue to examine and assess the feedback from this and previous rail bids to help shape our approach to future competitions.
"We are shortlisted to run the next TransPennine Express franchise, and are negotiating with the DfT to extend our current operation of that route to February 2016. We are also negotiating with the DfT for a direct award to operate First Great Western, our largest franchise, through to at least March 2019.
"There are 12 franchise competitions still to take place and we remain focused on reaching our desired position in rail by the end of the process, which is to achieve earnings on a par with the previous franchising cycle at an acceptable level of risk and return."
The award has been made in the face of determined opposition from rail unions and some transport campaigners, who wanted the Intercity East Coast operation to stay in public hands. RMT general secretary Mick Cash said: "The government has confirmed that it is bulldozing ahead with the re-privatisation of the East Coast Main Line despite all the figures showing that the current public sector operator is handing over a billion pounds back to the British people while delivering huge improvements in service and customer satisfaction."
Shadow transport secretary Michael Dugher revealed that he had written to the Department for Transport's permanent secretary Philip Rutnam asking him to postpone the process. Mr Dugher said: "The taxpayer and the travelling public have been sold down the river. This whole franchise process shouldn't have happened.
"Rather than rigging the franchise timetable in order to sell it off before the election, David Cameron's government should have been putting the public interest first and working to get a better deal for passengers."
The last private sector operator on the route was National Express Group, which surrendered the franchise in 2009 because revenue fell short. Since then it has been run by Directly Operated Railways, a subsidiary of the Department for Transport.
Reader Comments:
Views expressed in submitted comments are that of the author, and not necessarily shared by Railnews.
Is this the same RMT who absolutely slated Labour for years on end? Well, my union got what it's bosses asked for in 2010, and in came this government.

"FirstGroup said if it had been selected it would have created a "world class railway". - Which one, the third world? Planet Vernon?

As already pointed out. all three main Intercity lines out of London to the North ( WCML, MML, ECML ) will form. a giant Virgin / Stagecoach monopoly. It also seems the current enterprise shown by Grand Central and Hull Trains and proposed by Alliance Rail will all be subsumed into this great monolith.

And to cap it all, the new franchise is only for 8 years, which doesn't give much incentive for investment.

To ny mind, this all shows the basic bankruptcy of the franchising concept which has the effect of throwing away the potentialities of passenger privatisation.



Couple of points Lee, Manchester left out...

G) Green, yellow, red LEDs clearly visible from one end of coach to other indicating seats currently reserved/occupied, reserved later in journey, currently free. On a busy service give a quick one second glance on entering coach as to availability.

H) Maybe included with the 'suitcase' wish list but no mention of space of folding bicycles. Why aren't businessmen complaining already? Don't they realise what a great accessory they are for business travel!

I) Would an area of folding seats help with suitcases / folding bicycles?
Also prams / wheelchairs (but then why are they allowed when non-folding bicycles not allowed???).

(Intercity Express trains do have compartments for bikes in some of the vestibules.--Editor.)

Seems history is repeating itself given rush to privatise BR ahead of 1997 avnd now getting ECML back in the private sector takes precedence over renewal of other franchises which have simply been given franchise extensions .

Going by the franchise announcement on DFT site there is far less from this franchise winner than was offered by winner of TSGN franchise .

One does wonder if Virgin would have preferred Pendolinos instead of Inter City Express trains if they had the choice

Surely, it has is already been decided that Virgin/Stagecoach will definitely lose the WCML franchise, as the government is totally against any one operator having a monopoly on London to Scotland services. With regard to the Keolis (SNCF)/Eurostar consortium, if their bid was successful, that could surely have put a stumbling block in the way of George Osborne's plan to sell the UK stake in Eurostar.

It is a bit of a concern that the two main routes to Scotland are essentially in the hands of the same ultimate owners.

However it is with great relief that the recidivists have not gotten what they have wanted this time round - i.e. that is the means to hold the travelling public to ransom through dogmatic statist control of the railways from top to bottom. Great news. We need to free the railways from politics, rather than go back to the bleak days of BR. We also need the staff to commit themselves to doing an honest days work while at the same time offering the highest quality of service.



"Our partnership will concentrate on areas for which Virgin is famous, such as looking after our customers and our people."

Stagecoach could benefit from such a partnership elsewhere. One wonders whether "customer service skills" were even in the job specification for some of South West Trains' station staff.

As an initial thought will be interesting to see the reaction of the competition authorities as between them Virgin & Stagecoach will be running WCML, MML & ECML.



I may be wrong, and no doubt someone will point out some little-know or understood legal fact to prove it, but if Virgin/Stagecoach operate both the East and West Coast franchises, wont that constitute a monopoly of anglo-scottish passenger services between London and Edinburgh as Virgin already operate services between those two cities via the west coast?

For this fact alonw, there is no way Virgin/Stagecoach should be allowed to operate the Transpennine Express franchise as well as this would remove all competition between Manchester and Glasgow/Edinburgh.

It is also intersting to note that several of the other routes they are proposing to introduce new/additional services on are already operated by Open-access operator Grand-central, so at least some competition will be provided along those routes.

As for Virgin being a 'great experience' if the pendolinos are anything to go by this is not entirely true as the luggage space is somewhat limited for those with suitcases, businessmen are well catered for though, plenty of space for briefcases and lap-tops! i seriously hope these new Hitachi things will be better designed so as to not:

A) provide an omnipresent stink of chemical toilets as per the Pendolinos;

B) provide adequate luggage space for all types of long- distance travellers with one or more suitcases, rather than focussing on lap-top and brief case storage needs of businessmen;

C) include decent size windows rather than the gun-slits provided in Pendolinos, Bombardier managed it in the Voyagers/Super voyagers;

D) provide seats at windows, rather than vaguely near a gun slit. Why offer a pre-booked 'window' seat only to find you are sat looking at the back of the seat in front and the window/gun slit post?

E) maintain the 'Please do not flush nappies, sanitry towels, mobile phones, your hopes and dreams.. down this toilet' automated recording in the toliets as used on Pendolinos and Super Voyagers. A little humour makes the journey more pleasant! and

F) seats designed to accomodate a real human being and not an ergonomic one. I have no idea what an ergonome looks like but I assume they are about 5 foot 4, with the spine of a snake and no lumbar area, plus double jointed knees that accomodate allow legs to rest on the hard front edge of Pendolino seats without loosing all feeling by the time you have gotr a quarter of the way through the journey.

Good news for East Coast passengers but I hope this does not lessen the chance of Virgin retaining West Coast in the long term.