Posted 24th June 2015 | No Comments
Settlement in Network Rail pay dispute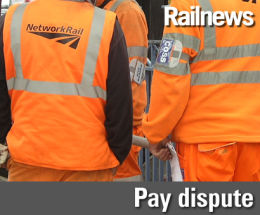 MEMBERS of the RMT, TSSA and Unite unions have voted to accept the pay offer made by Network Rail on 1 June.
The decision has ended the threat of strikes which were called more than once when negotiations had stalled.
Mark Carne, Network Rail chief executive, said: "This has clearly been a difficult period of uncertainty for our employees and for the people and businesses that depend on us. I am therefore pleased that we've come to an agreement.
"What has been clear to me throughout these negotiations is the passion we all share for the railway. I'm confident we will all now move forward together, translating that passion into improvements that will drive up our performance and deliver a better service for our customers."