Posted 12th May 2015 | 6 Comments
Network Rail condemns RMT strike call as 'ransom' bid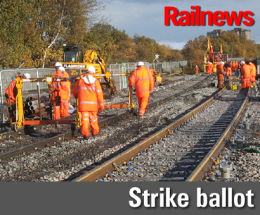 UPDATED 14.58

THE RMT union said its members have voted in favour of industrial action in a pay dispute with Network Rail.
The company said it had already revised the offer once, and accused the RMT of 'holding the country to ransom'.
The newly reappointed transport secretary Patrick McLoughlin said he 'condemned' any industrial action which caused disruption to transport.
The union's members voted by 80 per cent for a strike on a 60 per cent turn out and by 92 per cent for other industrial action short of a strike, according to the RMT.
It said the mandate from its membership would now be considered by the RMT Executive, because the latest proposals fell 'well short' of what was needed to maintain living standards, job security and working conditions for nearly 16,000 Network Rail staff, who amount to almost half the company's total workforce.
A strike or even industrial action has the potential to seriously disrupt train services, because many of the RMT's Network Rail members are signallers.
The offer which has been rejected would have meant a one-off lump sum of £500 this year, followed by increases in line with inflation over the following three years. Network Rail said pay would not, however, be reduced if the Retail Price Index became negative at any time.
RMT general secretary Mick Cash said: "Our members have today decisively rejected the pay package offered by Network Rail. This is a massive mandate for action and shows the anger of safety-critical staff across the rail network at attacks on their standards of living and their job security. It is now down to NR to start taking this issue seriously, to understand the deep-seated grievance felt by their staff and to come forward with a renewed offer which protects pay and jobs.
"As far as we are concerned the one off, non-consolidated, lump-sum payment this year is wholly inadequate and fails to recognise the massive pressures staff are working under to keep services running at a time when the company is generating profits of £1 billion. It is our members battling to keep Britain moving around the clock and they deserve a fair share from Network Rail for their incredible efforts.
"In addition, we are extremely concerned that the "No Compulsory Redundancy" commitment only applies to the first two years of the four year deal. RMT is in no doubt that this leaves Operations and Maintenance members extremely vulnerable, especially with the continued development of Rail Operating Centres and the ongoing cuts programme at Network Rail."
Network Rail chief executive Mark Carne said: "The railways are a vital public service, and industrial action would have a massive impact on millions of passengers as well as freight distribution across Britain. It cannot be right that the unions can hold the country to ransom in this way.
"Our employees have received pay rises eight times higher than other public sector workers over the last four years and have now been offered a deal for the next four years that is unmatched elsewhere.
"Despite the very clear need to modernise our railways, we have offered a guarantee of no compulsory redundancies for the next two years. The unions have also rejected a number of proposals that would boost productivity, removing our ability to offer them more.
"We will do everything we can to keep our railways moving during these times of uncertainty, and to stop the RMT from behaving in a way that will cause untold misery to our passengers and will hurt the economy. Fewer than half of RMT members at Network Rail have voted in favour of strike action, and we urge union leaders to come back to the table for further discussions."
The transport secretary Patrick McLoughlin issued a statement after the result of the ballot was announced. He said: "I condemn any industrial action that disrupts the travelling public. I want to see Network Rail and the unions back round the negotiating table, hammering out a deal.
"Rail passengers will not thank the unions for inflicting this unnecessary disruption."
Reader Comments:
Views expressed in submitted comments are that of the author, and not necessarily shared by Railnews.
A further question. Did the RMT miscalculate the result of the General Election and thought they would be dealing with an unstable Coalition. The timing of the Ballot now seems strange.

A word of warning to those band 1 - 4 managers who are currently on training courses to learn the skills of your staff so you can manage a track fault during the strike.
It is you bands 1-4 who have had a total of 3% pay rise over the past 5 years, just 3% in 5 years from this awful company.

If you going to be loyal to a comapny who teats you even worse than it is now treating its ground workers, then I ask you to also join us in the strike.

And ask yourselves, why havent Netowrk Rail announced the band 1-4 pay rise detailes yet?
Is it because you also going to be offered 0% again?

3% Within the last 5 years has seen your real earnings drop, dont stand for it anymore, back the strike and dont work during the strike.


Interestingly, under the tougher threshold proposed by the government, this would still pass the criteria, even the tougher one for public services. (60% x 80% = 48% > 40%.)

Talk today of changes to rules re strike ballots . Well lets base rules on same basis as this government was elected re turnout and share of votes !



I think this will provoke the new Government into a crack-down on Public Service Strikes, - a move that they would like to do and probably be popular with the electors. Because of the need to reduce the deficit, there is certainly conflict ahead with Teachers and Nurses. The RMT may have just put themselves in the Firing Line.