Posted 15th May 2015 | 4 Comments
RMT strike call is 'deplorable' – Network Rail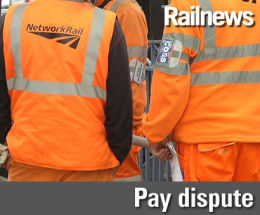 THE chief executive of Network Rail has condemned a planned strike and work to rule by members of the RMT as a 'deplorable' bid to 'hold the travelling public to ransom'.
The RMT has used the authority of a recent strike ballot to call a 24-strike starting at 17.00 on the late May Bank Holiday, which will mean that no RMT staff will book on between 17.00 on Monday and 16.59 on Tuesday.
The 16,000 RMT members working for Network Rail include many signallers, and although qualified managers may be able to take over in some cases, it seems likely that the 24-hour walkout will cause widespread disruption of National Rail services on Tuesday 26 May.
RMT members will also ban overtime for 48 hours on the Bank Holiday and Tuesday.
The RMT had rejected Network Rail's offer of a lump sum payment of £500 this year and pay increases linked to the Retail Price Index for the following three years.
Network Rail, which has spoken of 'financial pressures', said it had improved its offer already and that it was fair, considering that previous rises have been higher than in many other industries.
The RMT's general secretary Mick Cash said his members had been left with 'no option', and he threatened a 'rolling programme' of industrial action. He said his members had been angered by Network Rail's stance, and that its latest proposals were 'wholly inadequate'.
But Network Rail chief executive Mark Carne said: "This strike is deliberately timed to cause maximum disruption to families trying to enjoy the half-term break and millions more returning to work after the bank holiday. I find it deplorable that the RMT can hold the travelling public to ransom in this way.
"This week we have been talking to ACAS to try to get the RMT back around the table. The public knows only too well that our railway must improve. We want to work with the unions so that we can reward our staff through improved productivity."
He added: "The RMT say we can afford more than what's on offer. What they don't say is that Network Rail is a public service body and that all profits are reinvested in building a bigger, better, more reliable railway. Any pay increase comes from the pockets of taxpayers and fare paying passengers."
Transport secretary Patrick McLoughlin is defending the offer. He said: "I condemn any industrial action that disrupts the travelling public. Network Rail has put a fair offer on the table and has sought further talks with the unions. Rail passengers will not thank the unions for inflicting this unnecessary disruption."
Reader Comments:
Views expressed in submitted comments are that of the author, and not necessarily shared by Railnews.
Mark Carne and NR cite "financial pressures" as the reason why staff are effectively being offered a real-terms cut. But where were these "financial pressures" when NR decided to award Carne a 15% rise on his predecessor's salary, taking his basic pay to £675k, some FOUR TIMES that of the Prime Minister? In the face of such hypocrisy the hard working rank and file NR staff are quite right to call his - and the government's - bluff over their discredited 'austerity' agenda. It is regrettably clear that those at the top have no intention of properly rewarding workers unless they are forced to.

the appointment of Phil Hufton as head of Network Rail operation has been a disaster.
Mark Carne and the other board members need to look in the mirror before blaming their problems on the RMT



A word of warning to those band 1 - 4 managers who are currently on training courses to learn the skills of your staff so you can manage a track fault during the strike.
It is you bands 1-4 who have had a total of 3% pay rise over the past 5 years, just 3% in 5 years from this awful company.

If you going to be loyal to a company who treats you even worse than it is now treating its ground workers, then I ask you to also join us in the strike.

And ask yourselves, why havent Network Rail announced the band 1-4 pay rise details yet?
They are always announced by April.
Is it because you also going to be offered 0% again?

3% Within the last 5 years has seen your real earnings drop, dont stand for it anymore, back the strike and dont work during the strike.

The public need to understand the large scale resentment and anger within Network Rail