Posted 17th April 2015 | 5 Comments
RMT members to vote after Network Rail pay talks fail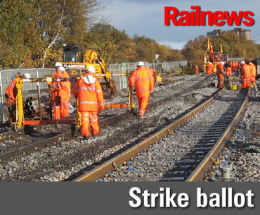 PAY talks between Network Rail and the RMT have broken down, and the union said it will now ballot 16,000 staff over industrial action.
The failure of the negotiations will cause widespread concern across the railway industry, and the dispute also threatens to become an election issue.
Network Rail said it was experiencing 'financial pressures' and that its offer is fair, but the RMT has condemned the proposed deal as 'wholly inadequate'.
Talks had been underway for some weeks at the conciliation service Acas, but the union negotiators rejected a single payment of £500 this year, to be followed by three years of increases in line with inflation, which Network Rail described as 'a significant improvement' on its earlier offer. That offer had been rejected in a previous ballot by 93 per cent of RMT members in a turnout of 56 per cent, according to the RMT.
The union's general secretary Mick Cash said: "Despite intensive talks we have not been able to secure enough significant movement and that puts us into dispute and triggers the start of a national industrial action ballot. As far as we are concerned the one off, non-consolidated, lump-sum payment this year is wholly inadequate and fails to recognise the massive pressures staff are working under to keep services running at a time when the company is generating profits of £1 billion."
However, Network managing director Phil Hufton has defended the company's stance. He said: "Pay awards at Network Rail over the last four years have been well ahead of the rest of the country. Pay has increased eight times more than workers in the public sector, such as teachers and nurses, and double the pay for private sector workers. We remain open to talks with the RMT."
Network Rail, which became a government body last September, is facing an uncertain future, with rumours circulating that major changes are being contemplated by the DfT which could include an element of reprivatisation. It is also in trouble over some of its CP5 budget forecasts, with spending running ahead of target and some of its electrification plans said to be in disarray.
Reader Comments:
Views expressed in submitted comments are that of the author, and not necessarily shared by Railnews.
Sometimes I think the unions are the curse of this country, is there any point in investing a penny to improve the railways if they go on strike? Some might argue that money would be better spent building loads of new roads, they make a huge profit for the authorities with fuel duty, vehicle tax, VAT on parking fees, VAT on new and second hand car purchases, and all the speeding fines etc.
Although I still prefer sitting back in a 40 year old HST than a 4 year old Ford Fiesta for the trip to Plymouth......as long as the trains are running!

I thought Network Rail was under Government control

(Network Rail has been a 'government body in the public sector' since 1 September 2014. But surely many people employed by government bodies can strike (such as firecrews and NHS employees)?--Editor.)

I'm not sure that they have earned a pay rise; I think a cut in salaries across the company are called for because of the under-performance at all levels and at virtually all indicators.

The RMT is just in time to remind us what would happen if all the Railway Operations were brought under Government control.