Posted 15th May 2015 | 4 Comments
RMT calls strike in Network Rail pay dispute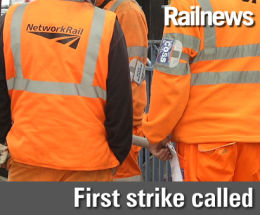 UPDATED 10.25

THE first strike of Network Rail staff in the pay dispute between the company and the RMT will be staged from 17.00 on Bank Holiday Monday.
The staff include many signallers, and although qualified Network Rail managers may be able to take over in some cases, it seems likely that the 24-hour walkout will cause widespread disruption of National Rail services on Tuesday 26 May.
RMT members will also ban overtime for 48 hours on the Bank Holiday and Tuesday.
The RMT had rejected Network Rail's offer of a lump sum payment of £500 this year and pay increases linked to the Retail Price Index for the following three years.
Network Rail, which has spoken of 'financial pressures', said it had improved its offer already and that it was fair, considering that previous rises have been higher than in many other industries.
The RMT's general secretary Mick Cash said his members had been left with 'no option', and he threatened a 'rolling programme' of industrial action. He said his members had been angered by Network Rail's stance, and that its latest proposals were 'wholly inadequate'
Transport secretary Patrick McLoughlin responded: "I condemn any industrial action that disrupts the travelling public. Network Rail has put a fair offer on the table and has sought further talks with the unions.
"Rail passengers will not thank the unions for inflicting this unnecessary disruption."
Reader Comments:
Views expressed in submitted comments are that of the author, and not necessarily shared by Railnews.
In response the voice of reason I'd like to respond on behalf of RMT members.
First of all we could of accepted the deal offered as we voted on the current offer and soundly rejected it .
As far as our General Secretary manufacturing this as a response to the election result that's impossible considering the timescales involved,regarding negotiations ,consultation and voting .
Mr Cameron was only elected on the 7th May and right up to until 10pm that
evening it was neck and neck and Mr Miliband according to the pollsters was just as likely to become prime minister.

We haven't been offered a rise we've been offered RPI which could be 0 so therefore another pay freeze all the while year on year network rail makes £BNs in profits. And please don't come with the public sector speech because we pay corporation tax I don't see the DWP or NHS doing that.

As always, Mr Cash is completely out of touch with reality. His members are, generally very well paid compared to many other industries and are even being offered a raise this and future years, something which is still not generally being offered elsewhere. How he manages to hoodwink his members time and again is beyond me. To strike over this issue is unforgivable, and it is clear that he has manufactured it as a political response to the election.
My message to RMT members is this - grow up, think for yourselves and stop this out of touch dinosaur using you for his political ends.

'No Option' ? Of course there is an option. Resigning and getting a better paid job outside the Rail Industry is one such 'option' - if of course you could find one.