Posted 11th April 2015 | No Comments
Bombardier rules out full sale of transportion division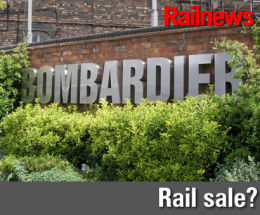 UPDATED 12.00

TALKS are said to be underway with banks over the future of Bombardier Transportation, which has its world headquarters in Berlin and employs almost 35,000 people, including 3,500 employees in Britain at eight sites and 23 service locations. Its activities include train manufacturing and maintenance, as well as signalling systems.
Reuters said the Canadian company is seeing how it could 'monetise its transportation unit', which is said to be potentially worth up to £3.5 billion.
But Quebec's economy minister Jacques Daoust has said he has been assured by Bombardier Inc's controlling family that the company will not sell its transportation division in its entirety, although 'other options' are on the table.
M. Daoust said Bombardier chairman Pierre Beaudoin told him a sale had been ruled out, but that the company 'has taken note of the global consolidation trend in the industry'.
Bombardier is looking for cash because of 'challenges' within its aerospace business, according to six industry sources.
The largest British site is at Litchurch Lane in Derby, which is currently building four-car Class 387 trains for Thameslink and Class 378 trailers to strengthen the existing London Overground fleet. It also has a recently-confirmed order for eight more 387s, destined for First Great Western, while preparations are under way to construct 600 electric multiple unit cars at Derby for London Crossrail, after Bombardier won the £1.3 billion contract last year.
Other Bombardier sites in Britain include depots for London Overground, but the company's relationship with Transport for London has become strained after Bombardier withdrew from the £350 million contract to renew the signalling on the Underground's subsurface network, which includes the Metropolitan and District Lines.
Bombardier has also run into trouble in Germany, where Deutsche Bahn announced in 2013 that it was suing Bombardier for 350 million euros because of problems with Berlin S-Bahn trains.
Bombardier, which is declining to comment officially, is currently the world's largest manufacturer of trains and aircraft. Possible buyers include rival Siemens, which won the £1.6 billion contract to build Class 700 trains for Thameslink in 2011 after beating off a competing bid from Bombardier.