Posted 6th February 2014 | 10 Comments
'Great news' as Bombardier Derby wins Crossrail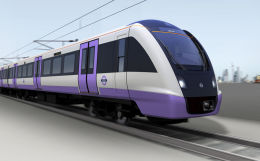 THE future of train building at Bombardier's Litchurch Lane factory in Derby has been assured for the next few years by the Government's announcement that the company has been chosen as the preferred bidder for a £1 billion contract to build 65 trains for London Crossrail.
The contract, between Transport for London and Bombardier, covers the supply, delivery and maintenance of 585 vehicles and a depot at Old Oak Common near Paddington in west London. There are also options for up to 18 more trains.
Key features of the high-capacity trains include air conditioning and interconnecting walk-through vehicles, as well as realtime passenger information systems.

The trains will be approximately 200 metres long and able to carry up to 1,500 passengers. They will be lightweight and built with an emphasis on energy efficiency and use of intelligent on-train energy management systems.

TfL will introduce the trains from May 2017, with the fleet progressively introduced to the existing rail network – initially between Liverpool Street and Shenfield – in advance of the launch of services through the central London tunnels in December 2018.

Crossrail will boost London's rail-based capacity by 10 per cent, connecting Maidenhead and Heathrow in the west and Shenfield and Abbey Wood in the east. There have been suggestions that the western terminus should be Reading rather than Maidenhead, but no decision has yet been taken.
Bombardier managing director Francis Paonessa said: "We are absolutely delighted with the news, which is a real endorsement of the hard work the team has put in. We have been working on the design for the past year."
He said the company had spent £20 million developing the new train, dubbed 'Aventra' at Derby, which is the company's world centre for design and construction in aluminium.
Transport secretary Patrick McLoughlin – a Derbyshire MP – said: "This announcement will mean state of the art trains providing quick, comfortable journeys for the millions of people Crossrail will serve. It is also great news for British manufacturing and for Derbyshire."

Shadow transport secretary Mary Creagh said: "Following the Thameslink train fiasco which led to a £1.6 billion contract leaving the UK and putting thousands of jobs at risk, Labour called on the Government to award future contracts to companies who would build trains in the UK. Labour wants to see trains built in Britain. Today's decision will safeguard the future of the Bombardier factory at Derby and support British jobs and apprenticeships."
TUC general secretary Frances O'Grady said the announcement was 'wonderful news' for Derby, adding that "workers in the city will be relieved to learn that jobs and apprenticeships at the factory have been secured for a good few years".

The Derby and Derbyshire Rail Forum, which represents over 100 rail-related businesses in the East Midlands, said the decision to award the contract to Bombardier was "welcome news."

The Forum added: "Litchurch Lane is an important manufacturing facility in Derby and employs large numbers of local people who contribute to the regional economy, and support a wide range of businesses and communities across the East Midlands.
"The DDRF looks forward to working with Bombardier, as preferred manufacturer, to ensure that our supply chain members can benefit from this decision, many of whom supply world-leading technology to rolling stock manufacturers across the globe."
The Department for Transport said the contract would support 760 manufacturing jobs plus 80 apprenticeships, and estimated that 74 per cent of contract expenditure will remain in the British economy. Constructing the maintenance depot at Old Oak Common will provide a further 244 jobs, plus 16 apprenticeships, while the operational depot will create 80 permanent jobs.
The Litchurch Lane plant is presently constructing further class 377 and 387 trains for Southern and Thameslink services and additional vehicles for TfL's London Overground Class 378 trains, and is also completing the final 400 cars of S-Stock for London Underground,

Mayor of London Boris Johnson said: "The manufacture of these new trains will not only revolutionise rail travel in London, they will deliver jobs and economic growth in their birthplace in Derby and across the UK. With a firm on board to deliver a fleet of 21st century trains and the tunnelling more than halfway complete, we're on track to deliver a truly world-class railway for the capital."
The contract is expected to be confirmed after a mandatory 10-day standstill period.
Reader Comments:
Views expressed in submitted comments are that of the author, and not necessarily shared by Railnews.
Thank god Bombardier have decided to be in the winner and they will start producing the new Class 345 Aventra Crossrail fleet and it will start operating once the Tunnelling project is completed in 2018. Well done to Bombardier. Now they can finish off producing the London Underground S7 Stocks for the District Line. :):)

Whilst welcoming the announcement in principle, I would like to know the details. Were the selected trains cheaper and/or better than the opposition ? If so by how much ? What actual features made the Derby trains better ? Better acceleration and fuel-consumption ? Maybe they would be available quicker ? I just hope the trains really were the best and this is not a Political stich-up to gather votes in the forth-coming General Election.

This news is as good as it gets these days, and very welcome. But how sad there are no British-owned companies building trains here. We could keep the profits in the UK too.

I noticed the odd look number of total carriages and the noticed the trains will only be of 9 carriage length when most Crossrail publicity has always spoken of 10 carriage trains so it looks like a cut in capacity has been made?

There still remains an imbalance in Crossrail services between Eaśt and west London and surely the time has come to extend Crossrail to Reading where platforms have been built for future Crossrail and money could be saved on extra terminal platforms at Maidenhead which is really the main destination .

Extending Crossrail to Reading could also mean far fewer old trains would not be needed on services between Paddington to Reading as many of these would be replaced by Crossrail !

The recent signalling fiasco on sub surface lines raised a question mark over Bombardier but that has more to do with previous governments not investing in the London Underground and thus an old signalling network that might be better dealt with by TFL if the called upon the services of Network Rail .



I would take all these anti-Hitachi arguments seriously if anyone attempted to state what the alternative was.

As it stands, the stance seems to be that you are quieter happy for no jobs to be created in north east as long as you prove a point. I'm not sure what exactly what point is being proven, but it seems that north-east jobs are somehow worthless in this debate.

(Correspondence about Hitachi jobs in the north east is now closed. Other comments about this story continue to be welcome.--Editor.)

Hitachi should NEVER have been given contracts in the UK. the Japanese will not allow other countries to access their markets without lots of hoop jumping. We should apply Japanese standards to Japanese firms and see if they win then!!

Chris Neville-Smith, Durham
Great news, and probably the right decision. Now can we please stop complaining Hitachi's IEP contract ?
===============================================
errrrrr no.

As good as the news of the Bombardier contract award is; IMO it in no way validates the expensive and ill-thought-out IEP contract.


So Boris Johnson says Cross Rail is now Full Steam Ahead.
That should be fun going through the tunnels!!


Great news, and probably the right decision.

Now can we please stop complaining Hitachi's IEP contract?