Posted 28th December 2011 | 12 Comments
Boost for Derby as Bombardier wins Southern order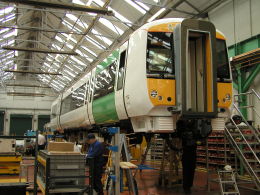 The Bombardier works at Derby built the original Electrostars for the South Central (now Southern) franchise a decade ago
BOMBARDIER has won the contract to build 130 vehicles for Southern. The deal worth is £188.8 million, and it's a welcome New Year boost for Derby, where the new trains will be built.
The Department for Transport is contributing £80 million towards the total cost. Southern said there would be a financial competition in the New Year to secure the remaining capital funding required.
Production of the 26 five-car sets will begin during the second half of 2012, and all must be delivered in time for the December 2013 timetable changes.
Originally, the expanded 2013 Southern timetable depended on the addition of 23 four-car Class 377 sets, which are presently sub-leased to First Capital Connect. These units cannot now be returned to Southern in time, because of the continuing delays to the Thameslink rolling stock contract, for which Siemens is currently preferred bidder.
It is widely believed that Siemens won preferred bidder status at least partly because its global credit rating is higher than Bombardier's, which means that Siemens could offer cheaper finance to fund the contract.
There had been fears that the Derby plant, the last factory building trains in Britain, could close as a result of the Thameslink order going to Siemens, and Bombardier has placed the plant under review as well as shedding some 1,400 jobs as various contracts came to an end.
However, the company described the Electrostar order as 'a step in the right direction'.
Bombardier's country representative in the UK Paul Roberts said: "We look forward to having greater clarity on procurement for the CrossRail project and welcome the Transport Select Committee's recommendations that future tenders separate train financing decisions from train design and manufacturing.
"These developments are therefore an encouraging step in the right direction and will be integral elements in considerations as part of Bombardier's UK review."
The new Southern Electrostars will be known as Class 377/6 units. They will be slightly different to Southern's existing Electrostar fleets, because they will have bodies based on the Class 379s, which entered service with National Express East Anglia earlier this year.
However, they will be sufficiently compatible with the existing fleets to remove any need for the separate maintenance facilities and equipment which would have been required had the 130 vehicles been built by another manufacturer.
Southern managing director Chris Burchell said it was this compatibility which had been one reason for choosing Bombardier.
He explained: "We found that the Bombardier bid could meet our challenging delivery timetable, was affordable and also offered compatibility with our existing fleet. We are delighted that we have found a way forward that will enable us to provide vitally needed extra capacity."
Reader Comments:
Views expressed in submitted comments are that of the author, and not necessarily shared by Railnews.
Since Bombardier are building the Class 377/6 for Southern. What about building more Class 379/0 for Greater Anglia because I use Greater Anglia to London Liverpool Street and the Class 321's are old, always getting full up during rush hour and saw 3 Class 379's at Liverpool Street that are used for Cambridge & Stansted Express routes. If only Bombardier could of built 50 Class 379's then the Class 321's should be cascaded to other operators.

I struggle to understand how the Government are blamed for Bombardiers lack of orders. They carried out a procurement exercise that declared Siemens - a major Engineering company, not a bank - the preferred bidder simple as that. The blame lies with Bombardier, who are a Canadian company. Bombardier have major contracts across the world and could easiliy transfer some of this business to Derby if they where really serious about the plant. Holding a gun to the British Governments head - give us the order or Derby gets it - is totally unacceptable. So far as the North/South comments are concerned - Lancashire Triangle, Northern Way, Transpennine Electrification - what on earth more do you need to stop whingeing!

Good news for Derby, at last. Now let the politicians and civil servants get on SMARTLY with the order to add a pantograph car to Voyagers. If the number of cars is deemed too small for them to be produced in Derby, then for goodness' sake get on with it and add Virgin's Voyagers to the order. It isn't rocket science. GET ON WITH IT, NOW - why are we British always so snail-like slow? Is it something to do with the weather?

The 455s will be around until about 2020/202, though they may be cascaded to SWML in the meantime.



When are southern going to replace their class 455? I would of thought that a worthy replacement would be some class 376 or 378

Jay Kay, you've no reason to moan. The Southern franchise you benefit from includes later trains in the evening and some services on Boxing day hard written in to the franchise agreement, which neither Southeastern or South West Trains passengers have. And in any case Iif I as in your shoes I woudl gladly swap the 24*2 car cheap as chips class 456 for brand new state of the art 26*5 car 377/6's.

Paul Hartley, I hear the plan is for the FCC 377's to be split between Southeastern and Southern as extra capacity in 2016 following introduction of Siemens trains for Thameslink.

Bombardier appear to have won one of those small gifts found in a box of Christmas Crackers!!!

So how much would have the government have had to supply to make the Thameslinbk order competetive with Siemens which we must always remember is first and foremost a german bank?

Of course a dedicated government would negitiate with the EU that the fact Siemens is a bank which builds trains is unfair competition but can you imagine Cameron actually negotiating with the EU when he preferes to throw his rattle out of the pram!!!

I guess the rules go "he who pays the most taxes with the least benefit claimants gets the newest trains"

Based on this rule, it is clear that the southeast beats Liverpool and other northern cities by far. That's life, got to accept it.


Hardly a plant saving order,whats going to happen after Dec13? +Southern are set to lose their Class 456 two-Car units to SWT(why?) so even less trains for
the long suffering Southern commuters.

So what will happen to FCC's 377s once they are able to be released?

Good news at last for the workers at Derby and - I suppose - for Southern but when are we going to see some brand-new trains for the long-suffering commuters in the North of England - instead of the usual 20 year-old cast-offs from further south!