Posted 17th June 2011 | 13 Comments
Bombardier may review British presence after defeat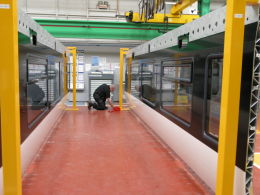 End of the line? Now that the Thameslink order has gone to Siemens, there are fears that train-building at Derby could cease within three years
BOMBARDIER is reported to be set to review its activities in Britain, after losing a £1.5 billion train order to Siemens.
More than three thousand jobs now hang in the balance, while Bombardier seeks a 'debriefing' from the DfT on why it lost the order for some 1,200 new vehicles for Thameslink.
The order, for which Siemens is now the Department for Transport's preferred bidder, is to build approximately 300 4-car units to replace and enlarge the present Thameslink fleet. Some of these units would run in 12-car formations, and platforms have already been lengthened accordingly at many stations on the Thameslink and Great Northern routes in recent years.
Assuming that the contract is confirmed later this year, the first of the new trains – built in Germany – are due to be delivered in 2015.
The British supply chain will make some contribution, with up to 300 jobs expected to be created at Hebburn in Tyneside to make components for the new fleet, which Siemens has dubbed 'Desiro City'.
Siemens said that in all 2,000 jobs could be created in Britain as a result of the order, but as there are now fears for the future of the Bombardier train-building works at Derby, more than twice this number could be lost in the East Midlands alone.
Around 2,300 permanent staff are employed by Bombardier at Litchurch Lane in Derby, with another 700 currently on short-term agency contracts.
Several thousand more people are employed by companies in the local supply chain in and around the city, some of whom depend on the existence of Bombardier.
Ironically, the Bombardier works at Litchurch Lane are very busy at the moment, completing a number of orders which include 191 'S-stock' cars for the subsurface lines of London Underground.
The last of these are to be delivered in 2014, but other contracts will be completed within a year or less, leaving the plant to run down unless new orders can be found.
Bombardier has also scored a success this week, winning its largest ever resignalling contract for the London Underground Metropolitan Line and the other subsurface routes, but this work will not help Litchurch Lane to survive.
A spokesman for Bombardier would say only that the company was 'very disappointed' to have lost the Thameslink order, and that it would be seeking a debriefing from the Department for Transport, which allowed its decision to emerge early yesterday.
The transport secretary Philip Hammond had made what should have been a keynote speech at the industry exhibition Railtex just 24 hours earlier, but observers noted that he was careful to avoid the issue of the Thameslink contract.
The longer-term future of Litchurch Lane, and indeed Bombardier in Britain, must now be in doubt, but the company would not be drawn on what might happen next, insisting that no decisions had yet been made.
Reader Comments:
Views expressed in submitted comments are that of the author, and not necessarily shared by Railnews.
I just sent this to No10

WHY? Why are you so anti-British? This is nothing short of the work of traitors. Yes..traitors. I say it again..TRAITORS.
The present government are not fit for purpose.


Yet again the UK shoots itself in the foot. Would SNCF or DB place such a large order abroad ? Even the Italians used every rule and technicality to get their new trains built in Italy. If Derby closes than it will never come back. And the UK will have to import every single train from now on as Hitachi and Siemens will not build anything on the scale of Derby in the UK. Britain has been mis-ruled for over 40 years by incompetent Politicians and a Civil Service overseeing the destruction of much of its wealth creating manufacturing base. Its not as if the UK won't need any new trains in the next 30 years !! I am so glad I now live Australia which puts itself before all others.

Well with this decision and Boris not getting on with any further orders for tube stock then what need will Bomberdier have for a site that is not even on mainland Europe!!!

Surely its time to end the secretcy surrounding these orders in order that the full facts are known ahead of decisions being made.

You can hardly go to Siemens now and say "sorry chaps we forgot to think of our own workers" something the French,german japanese etc always do as a first priority!!!

I suppose just like Boris we will have Dave seen at the worksite of the Hitachi plant while Derby workers face getting p45s!! And no visits from Dave!!

Bombardier produces many components and subsystems of each train abroad and Litchurch Lane is little more than an assembly plant. Little difference to the proposal for Agility Trains (IEP) and Siemens (Germany).

Whilst engineering needs to be encouraged in the UK, it must be to the best bid (not necessarily the cheapest) and meet the criteria. Yes, Derby would suffer if Bombardier closes Litchurch Lane but UK PLC will be no worse off as Siemens and/or Agility will be building their fleets here using the same methods as Bombardier do now.

With tenders for Crossrail trains being imminent and, surely there has to be an early decision on replacing the awful Pacers and Class 150 Sprinters, then hopefully Bombardier will be in the running for winning further orders. However, apart from Siemens, there will be stiff competition from the likes of Hitachi (who will be looking for continuing work for their proposed Newton Aycliffe plant) and Alstom. If however, Bombardier do fail to win more orders for British train operators, their UK factory may become a mere supplier of components for other assembly plants across Europe, meaning the end of train building at Derby

Another failure to consider 'whole life' cost-benefit analysis, ignoring all beyond the accountants' short-term bottom-line. If '2000 jobs' (doing what, where?) come from a cascade of rolling stock, how many just migrate? As the total number of carriages will rise by a tiny amount, and modern stock needs less maintenance than older types, define 'new jobs'. New stock has a shorter design life than older trains - are these 'new jobs' the early build of the next generation of trains?

What a wholly speculative article.
Bombardier MAY review their British presence after losing a couple of contracts, albeit very large contracts. With rail travel predicted to double in the next 25 years someone has to build the new trains to allow this to happen. So I can't imagine any company pulling out of such an expanding market.

Sounded familiar to Alstom back in 2005

Disgusting if this is the case. Thought the Government wanted to increase the manufacruring ability of this country but giving an order of this type to the Germans doesn't help. Really stupid.

Another blow for manufacturing in the UK and especially the Midlands! This is not just about the jobs that could be lost now, but also about the potential jobs and the loss of engineering training for future generations. The government bemoans the lack of engineering expertise in this country then hand over contracts to the Germans! I taught in Derby for 7 years and school kids see Bombardier and train manufacturing as a worthwhile career, where they learn crucial skills. As usual an approach to short term gain will cripple long term development and further erode the manufacturing skill base of this country.

Surely, other opportunities could well come along. The electrification of the south Wales valleys is highly likely as they are still using awful Pacer trains aided by some old 150 Sprinters.

This contract should be awarded to bombardier we need to suppord british industry