Posted 19th February 2014 | No Comments
Crossrail rolling stock contract signed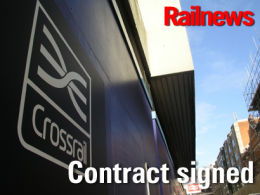 TRANSPORT FOR LONDON has confirmed that it has signed a contract with Bombardier for the delivery of rolling stock and a new depot for Crossrail, following the completion of a 10 day standstill period.
The £1.3 billion contract between TfL and Bombardier covers the supply, delivery and maintenance of 65 trains consisting of 585 vehicles, as well as a depot at Old Oak Common.
The new trains will be manufactured and assembled at Bombardier's plant at Litchurch Lane in Derby. TfL will be working with Bombardier on the final design for the trains with the first due to be delivered in May 2017. The contract will support 760 manufacturing jobs in Britain plus 80 apprenticeships, while construction of the maintenance depot at Old Oak Common in West London will support 244 jobs, plus 16 apprenticeships. There will also be 80 permanent jobs there.
Bombardier won the contract after beating rival bids from Hitachi and CAF. A fourth contender, Siemens, withdrew from the contest last summer, saying that it was already fully committed elsewhere.

The figure of £1.3 billion includes £300 million for the construction and operation of the depot, plus maintenance of the fleet until 2026. There is also a provision to extend the maintenance period for a further 20 years until 2046 for another £1.2 billion, but Transport for London is not bound to take advantage of this extension.