Posted 9th March 2015 | 10 Comments
More rolling stock needed as passenger growth rises again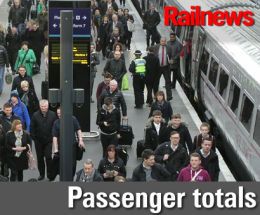 PASSENGER growth has risen again on National Rail -- and the rate of growth is also going up.
It reached 6.7 per cent in the three months from November.
The Office of Rail Regulation said total journeys, as reported by the Lennon ticketing database, reached 429.8 million in that quarter, which is the highest recorded in modern times.
If repeated over a full year, the resulting total would be higher than the landmark 'demobilisation' year of 1945, even allowing for the fact that Lennon counts individual 'legs' of journeys and therefore exaggerates the total compared with historical figures.
The total of passenger kilometres also rose again, by 6.5 per cent. Passenger kms are boosted by the fact that the average rail journey is significantly longer now than in former times, and have probably reached an all-time record. However timetabled train kilometres increased hardly at all, by just 0.5 per cent. which implies that some trains are becoming more crowded.
In a related development, an updated version of the industry's long-term rolling stock strategy says increasing passenger numbers, withdrawal of Pacers and delays to planned electrification schemes mean there is a "short-term requirement" for between 350 and 500 'non-electric' vehicles, and possibly as many as 19,000 new electric vehicles by 2044.
The short-term need for additional non-electric vehicles is despite the number of new electric vehicles which are to be built during Control Period 5 (up to 2019) and in the early years of CP6, which is "now approaching 3,800," according to the strategy. It says: "This represents a capital cost of more than £6 billion, at an average build rate of 12 vehicles per week, compared with an average of just four vehicles per week in the five years of CP4 (2009-14)."
It also comments that: "Vehicle owners and train operators have also become increasingly innovative at adapting and extending the lives of older vehicles." Two current examples of this are the proposals to convert former London Underground D78 stock from electric to diesel traction, and leasing company Porterbrook's 'Evolution' project to rebuild Class 144 Pacers, making them compliant with tighter disabled access rules which come into force towards the end of this decade.
The report has been prepared by a pan-industry steering group chaired by Richard Brown, former chief executive and chairman of Eurostar.
It adds: "Some new and additional non-electric vehicles will be required in CP5 and early in CP6, as a result of the existing levels of crowding and continuing strong growth of passenger demand on some non-electrified routes, the assumed replacement of the 'Pacer' vehicles and the rate of completion of the committed programme of electrification.
For the longer term, it says that: "Peak and off-peak passenger growth across all market segments is forecast to continue and it will be necessary to expand the rolling stock fleet to avoid crowding."
It adds: "Analysis indicates that between 13,000 and 19,000 new electric vehicles will be required over the 30 years to 2044.
"Electrification will in many cases permit longer trains, and will enable diesel trains to be transferred to non-electrified routes, where growth has been constrained by lack of sufficient vehicles.
"The modelling of electrification and growth demonstrates a reduction in rolling stock unit costs of more than 30 per cent in all scenarios. The strategy emphasises the resulting benefits to passengers, including improvements to punctuality and reliability."
Of the growth in passenger numbers between last November and January, the ORR said: "This is the highest number of journeys recorded in a quarter since data collection began in 2002-03, and a 6.7 per cent increase on the same quarter last year."
London and South East recorded the highest growth, eight per cent, but passenger kilometres only grew by 6.8 per cent.
By comparison, long distance intercity journeys went up by 5.1 per cent but passenger kms grew 6.9 per cent, indicating passengers making longer journeys. And the growth in journeys was more than twice that allowed for in HS2 Ltd's business case.
Regional services also recorded growth in the last quarter – 3.1 per cent more journeys, covering five per cent more passenger kms.
Compared to other European railways the ORR said: "Since 2008 the number of passenger journeys has increased by 23 per cent. This is the biggest increase in journeys of any EU country that reports to Eurostat."
Reader Comments:
Views expressed in submitted comments are that of the author, and not necessarily shared by Railnews.
JC Cheshire I must have been thinking of Sprinters .

But having never used a pacer I've never experienced one .

My one in one out is linked to DMUs released by additional electrification whose aim is to release DMUs solely to replace Pacers and filling small holes as in Southern and South West Train networks would have the benefit of making both these networks fully electric and release DMUs that spend most of the time running on electrified lines .

The reality is Pacers are not DDA compliant and either need to be converted or scrapped in around 5 years time or replaced by alternatives like converted D78 trains as 278 DMUs !



Northern Rail would get most of the Class 319's that Thameslink are getting the brand new Class 700 trains. But also Bombardier are to start building the Class 345's for Crossrail aswell to build the Class 387/2's for Gatwick Express and they also could build more Class 379's for Abellio Greater Anglia to cascade the Class 321's and 317's elsewhere with London Overground also wanting to order the Class 378/3's to be used on the West Anglia Metro and the Romford-Upminster services and Hitachi to start building their brand new IEP Class 800 for First Great Western and Class 801's for Virgin Trains East Coast to cascade the Class 91's MK4 trains and to build the AT-100 & AT-200 trains.

Just to add that it all depends when people travel how much Rolling Stock you need - and how many Drivers. If the recent increase is 'off-peak' then there probably isn't any need for more Rolling Stock - though it might mean more off-peak trains and therefore more drivers. However if its at 'Peak Commuter' time then trains may need to be longer but no more drivers. It all depends where the predicted growth will be - and of course which areas. And of course there's always the question of storage and maintenance of new Rolling Stock.

Re: Melvyn Windebank. There are no 1 car Pacers. All Pacers are 2 car, except for 10 x 3 car class 144s.

Also 1 in and 1 out won't work. The DMUs being released by North West electrification are required for service enhancements elsewhere. The original intention was 130 extra carriages for Northern and 32 for FGW using the released 319s and subsequent cascades. And that was for predicted CP4 growth - we are now in CP5 and growth has continued at a higher level than expected.

@ Tony Pearce, rail travel has been growing rapidly for the last 10 years not just during the depression. The availability of laptops & wifi/3G so professionals can do chargeable work on trains accounts for part of the rise. Ability to plan journeys online from anywhere and not have to queue up for variable ticket office assistance is also a factor.

Congestion on the roads, oil prices, car insurance, parking, people tend to dislike buses more than trains, more flexibility in ticket pricing, ... not hard to see why demand is rising. But with so much public money committed to HS2, electrification and mega London projects we need to look at longer franchises to gear in money to unblock bottlenecks reopen lines etc. VTEC and open access operators are limited to 8 trains an hour into/ out of KX longer franchises access agreements could change that just as Hull Trains proposes re electrification to Hull in exchange for a longer access agreement. The East Coast is proposed for 140mph running so Hulll Trains and Grand Central will need new stock, while all operators need 4 running lines to Stoke tunnel. VT could also order additional cars to make their 9 car sets up to 10. That gives the ECML capactiy till HS2 comes to its relief. But no new money will be put on the table without long-term agreements.

No doubt these figures will lead to calls to order new DMUs .

However, given a new DMU would be expected to have a life of around 30 years and would take several years to introduce and need to overcome EU emission standards and then the real question " how many to order ?".

Perhaps we need to follow the example set by Chiltern Railways and recently announced by the new Scotrail franchise and go back to locomotive haulage given how many HST carriages that will become available in next few years .

As for DMUs we need to overcome DFT reluctance to extend 3rd rail electrification and equally SWT reluctance re AC overhead wires and use a mix of both systems to finally remove non electrified holes in Southern and South West Train networks thus freeing up DMUs for use elsewhere .

As for Pacer withdrawal well DMUs released via infill electrification could replace Pacers on a one in one out basis with the option to remove a 1/2 car Pacer and introduce a 2/3 car modern DMU .

We are no-longer in a depression given that the economy has been growing for a number of years now. That does not mean that it will not change in the future - the GBP v EUR is approaching the threshold at which it will kill or at the very least stall the recovery in the UK. Sovrign debt defaults around the world would put us back into a deep depression, harder than the last one.

So this is only a crude projection, and is not necessarily what will happen. Having said that, it serves it's purpose to allow procurement to be based on what we know.


I don't doubt the figures - but I would really like to know about who is now using the trains acroos the Country and the time they are travelling. Looking just around Reading the age group who seems to be using the trains (apart from London and Reading Commuters) are young people aged between 14 - 25 ish. They seem to travelling for 'pleasure' - such as going shopping in Reading or meeting friends for the evening. They appear to be 'living at home' and therefore don't have Mortgage and other expenses as a drain on their income. But before anyone continues to predict what will happen in the Future, it might be extremely valuable to identify exactly why in a very deep depression, travel by train has rapidly increased.