Posted 9th December 2014 | 4 Comments
New trains set to reduce West Coast overcrowding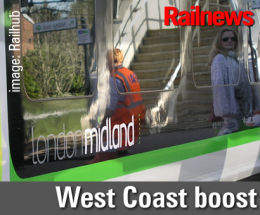 ONE of the most overcrowded routes in Britain will benefit from ten extra four-car trains from 14 December, when national rail timetables are revised for the coming year.
London Midland, which has been heavily criticised for cancellations and extreme overcrowding on its trains between London Euston, Milton Keynes Central and Birmingham New Street, said it will be providing an extra 139,000 seats a week.
The company said commuters on the suburban West Coast services, particularly between Euston, Milton Keynes and Northampton, will benefit from a mixture of new trains, extra seats and or faster services. 'Expressing' some trains to Milton Keynes Central and Northampton will also take pressure off other services to places such as including Watford, Hemel Hempstead, Tring and Leighton Buzzard as longer distance passengers are expected to choose the faster options.
The extra capacity will amount to 64,000 extra seats on London Euston services and 75,000 for Birmingham New Street. Other stations will share in these increases, ranging from 10,000 a week at Tring to 62,000 at Watford Junction.
In the West Midlands, the Cross City line will see frequencies to Redditch increasing from two to three trains an hour. There will also be extra seats from stations along the line to Lichfield Trent Valley.
London Midland is also increasing the number of services from Birmingham and Coventry to London. Some of the additional capacity has been achieved by upgrading part of its fleet to run at 110mph (177km/h).
The improvements have been made possible by £62 million of government investment in additional 177km/h Class 350 Siemens Desiro trains. Rail minister Claire Perry said: "We are absolutely committed to building a world-class rail network that provides more seats, more services and better journeys. I am delighted that London Midland's passengers across the network are seeing the benefit of our investment."
London Midland managing director Patrick Verwer said: "With more people travelling with us each year our passengers are telling us they want more services, quicker journeys and more seats. We have listened and taken the opportunity with our new trains to make as many improvements for as many passengers as we can. This is the biggest change to our timetable in six years."
Some London Midland passengers have been deeply critical of the operator's performance, which has also been affected by continuing infrastructure problems, particularly at Watford Junction, where a Network Rail resignalling scheme has been encountering setbacks.
One angry Hemel Hempstead passenger told Railnews that he is taking his complaint about services from Euston to the town's MP as well as the transport secretary and safety bodies. Geoff Cummins said: "I believe that the public has had enough of the awful service provided by London Midland."
London Midland's present contract ends in September 2015, but last year the Department for Transport indicated that it is proposing to extend the present franchise until 2017, as part of the wider changes to its refranchising programme. However, the terms for such an extension have yet to be announced.
Reader Comments:
Views expressed in submitted comments are that of the author, and not necessarily shared by Railnews.
There are still a lot of trains into and out of Euston that could be lengthened to 12 car, but yet more units would be required. There are other problems looming as the "semi-fast" service to intermediate stations on the Trent Valley line has more demand than can be satisfied by 4 car sets and 8 car sets don't fit all the stations. Moreover, as some of these trains also represent the increased capacity on the Euston/Milton Keynes section, there will come a day when there's a need to run 12 car trains to Crewe. A strategic solution is needed before HS2 comes along

So, the $64,000 question is: what will the crowding stats be like after the new trains are introduced?

Because there's a serious danger that there won't be enough space of trains to get people to London long before 2026. That was the last cheap and easy improvement on the table - will we have to consider expensive and difficult ones too?

It's all well and good increasing capacity, but London Midland still need to sort out the multiple cancellations especially on a Sunday when their service is so unreliable