Posted 4th December 2014 | 13 Comments
Chancellor signals scrapping of 'unpopular' Pacers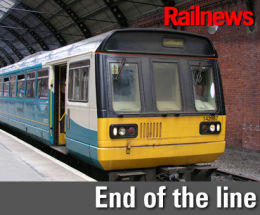 THE much-criticised Pacer trains which are still in use on many routes in the north of England are to be replaced, the Chancellor has promised.
The news came during his Autumn Statement to Parliament, in which he said: "I can confirm today that we will tender for new franchises for Northern Rail and the Trans-Pennine Express – replacing the ancient and unpopular pacer carriages with new and modern trains."
The Pacers were built in the early 1980s by British Rail, at a time when its finances were under great pressure and further line closures were being considered. At the time, the trains -- based on Leyland National bus bodies and without bogies -- were seen as the only possible replacement for the first-generation diesel multiple units from the 1950s and 1960s which were reaching the end of their lives.
They are not compliant with a forthcoming tightening of accessibility rules, and conversion would be expensive. They are often criticised for the quality of their ride and their poor resistance to collision impacts.
The Chancellor also confirmed major investment in railways in the north of England. He said: "Our ambition is to build a northern powerhouse as a complement to the strength of our capital city, where we bring together our great cities of the North. Since I set out that ambition less than six months ago we have proposed, reported on, and given the green light to the concept of High Speed 3.
"This week we commit billions of pounds to other road and rail improvements across the whole of the North of England."
Reader Comments:
Views expressed in submitted comments are that of the author, and not necessarily shared by Railnews.
Several references to the expanding electric network! But oh dear, it is "expanding" so slowly!! Glacially slowly in fact! Will we ever get a move on? Are we congenitally slow? Can we help it? Certainly where civil servants are concerned 'slow' is the watchword it seems - perhaps what they call normal speed.

We are in the run-up to an election which the incumbent Government now thinks it has a good chance of winning due to problems within the opposition. They have therefore gone down the route of making unfunded promises prior to the election. There will however be a price to pay, i.e. cuts to Government expenditure across the board no matter who wins the election; based on current financial projections there are going to be deeper cuts that originally expected. As a result the rail programs will not survive as they are current envisioned.

Either way, the replacement of the Pacers will not happen in advance, to any significant degree, of the original projected replacement schedule.


When the Northern & Trans Pennine franchises are relet the devil will be in the detail if new trains are ordered & built to replace the pacers. Electrification and recent franchise announcements already signal a cascade of existing emu & dmu fleets that will be available to replace existing pacer diagrams.

Let us not forget that ATW & FGW also operate pacer fleets. Valleys electrification will displace ATW's fleet & Great Western electrification will enable a cascade of dmu's to the West Country.

What will be interesting is the financial implications to those franchises operating 14x units as they are bound to face increased rental costs for replacement units.

Well I guess this finally kills off any thoughts of converting ex LU stock into DMU's and we are spared replacing a poor train with a worse one. One thought is could the new design be designed to create a standard variant and a panoramic version for routes like the West Highland line , Settle and Carlisle line.

Will the "new and modern trains" actually be new-builds or merely DMUs cascaded from lines that are scheduled for electrification? No doubt, we shall hear the truth within the next 12 months or so, when the Northern franchise is re-let. Nevertheless. a number of Pacers could be retained/refurbished for use on some scenic lines, as their windows do give excellent all-round visibility. However, like the absolutely awful Class 150s, the majority of them should be withdrawn as early as possible.

Over the last few months, I've ridden a selection of Pacers and Class 150s in the north, the west and South Wales. I've also ridden a few of the even older London District Line Class D78 trains to the outer reaches of the line. The Pacers might shake, rattle and roll, but the D78s with their rubber coil suspension and large windows, just trundle about airily with a lot more passengers. I have read Vivarail's proposal to convert D78s to DMUs and I have a feeling with my engineering hat on that this crazy proposal might just be so off the wall to actually work well.

Remember though that when you look at an HST or a Class 455, you're seeing the product of an industry where we lead the world - train refurbishment.

Remember too, that you can't refurbish Pacers, but the D78s are a different kettle of fish, which have had one careful owner, who upgraded them ten years ago.

To the untrained politician's eye the D78 may be a second-rate piece of rubbish, but Vivarail seem to have proposed making a few silk purses out of sows' ears.

We live in interesting times.

...and the replacement will be ex-LU D78 stock rebuilt as DEMUs.

No new DMUs.
165s, 166s cascades, plus Welsh Valleys electrics releases sufficient 150s to replace the Northern (and all other) Pacers. The new trains spoken of will be EMUs for the north Transpennine route, which will also allow a cascade of some 185s. Include too the 319s replacing Pacers in the new Lancashire electric scheme, and the picture is complete.

(A fair point. Perhaps it's worth recalling that there are 86 four-car Class 319s alone. Assuming all are in good enough condition that's a large replacement fleet, sufficient for a number of routes in the north, I suggest.--Editor)

"...and guess what country gets to build the new DMUs?"

Well, London Undergound, Overground, IEP and EGIP trains are all going to be built in Britain (with Thameslink being built in Germany), so if I must make a guess at this point, I'll go for Britain for Pacer replacement too.

Or is that the wrong answer?

...and guess what country gets to build the new DMUs? (answers on a postcard to....) ive always liked the Pacers@least they were Brit Built and if you believe Georgie boys 'Northern Power House' statement good luck with that

I suppose the recent decision of the new Scotrail franchisee to both order new electric trains and use short HSTs for long distance internal routes in Scotland helps !

I have also noticed that some tram systems are not only ordering new trams for expansion but also to replace first generation trams so is there anywhere where these surplus trams could be used to replace pacers ?
A small network of lines which don't have freight trains and would never justify full 25kv electrification would be ideal with even possibility of extending routes closer to town centres .

As for new DMUs surely we should be looking for hybrid DEMUs able to run both as diesel trains but also with pantographs to allow electric running on expanding electric network . With battery power being a long term option once technology has been developed.




These units are perfect for restored Heritage Lines - especially for the days when visitor numbers are few and far between. I'm sure there will be a lot of bids.

Better for loading and storing bikes on than the awful 158 units, they do have some merits!