Posted 6th February 2015 | No Comments
New vision for railway, but 'there is much more to do'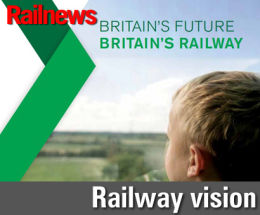 THE Rail Delivery Group has unveiled its vision of tomorrow's railway, but has admitted that there must be improvements to performance and how tickets are explained and sold to passengers.
The RDG said its plans formed 'an ambitious blueprint' for better services, journeys and value.
'Britain's Future, Britain's Railway' sets out how train operators and Network Rail plan to provide a better network for passengers, freight customers and the country by working even more closely together and with UK, Welsh and Scottish Governments, local authorities and other stakeholders to meet the challenges the industry faces.
The RDG said: "Rail plays a vital role in keeping Britain competitive in a global economy and the industry has already seen significant success. After two decades of growth in people and goods travelling by train, our nation leads the way on rail in Europe. Satisfaction amongst passengers is higher here than in other European countries on a number of counts including punctuality, frequency of services and the provision of information to passengers.
"But there is much more to do. Too often, we are not keeping our promise to passengers on punctuality. We trail other sectors in how we sell tickets. And passengers are rightly expecting the railway to keep up with the technological changes they see in other areas of their daily lives.
"In this short booklet, we set out a range of existing commitments and other potential changes to make the railway better for users and funders. A pull-out section in the centre contains details of the specific improvements passengers can expect to see in their area."