Posted 16th February 2015 | No Comments
Demand for rail continues to grow, but some TOCs lose money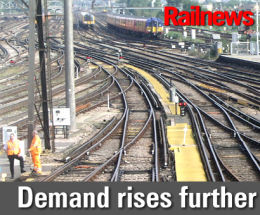 THE Office of Rail Regulation has published its latest financial report, which reveals that the number of National Rail journeys has risen by 16.6 per cent over the past four years. The movement of freight cargoes has risen even more, by 18.1 per cent. However, several passenger operators are in the red.
Railway industry costs have been largely contained, having risen by only 0.03 per cent. Passengers are continuing to pay a greater share of revenue, which has risen by 10.8 per cent to £8.2 billion. The ORR commented that this was 'consistent with the increase in passenger journeys'. Passengers have contributed an increasing proportion of the rail industry's income relative to taxpayers over the past four years – up from 55.6 per cent in 2010-11 to 61.5 per cent in 2013-14.
The Government, meanwhile, has contributed £3.8 billion to the industry over the past year. Although subsidies are still being paid to some franchised train operators, most of this total was direct grants to Network Rail.
Total government funding varied from £1.88 for each passenger journey in England, to £7.77 a journey in Scotland, and £9.18 a journey in Wales.
Most operators were profitable, but London Midland lost £8 million in 2013-14, while Abellio Greater Anglia had a deficit of £3 million. Chiltern Railways and East Coast recorded losses of £1 million each. Southeastern was also in the red by this amount, but the ORR pointed out that 'care is required in comparing Southeastern's income and expenditure to other franchised train operators due to Southeastern's use of High Speed 1'.
ORR chief executive Richard Price said: "There has been substantial growth in the use of the railways in the past four years. Passengers are increasingly the main funder of the railways, and must be central to developing plans for future services and investment. ORR's report also highlights that the rail industry has been successful in keeping costs stable despite carrying significantly more passengers. Our industry financials publications provide an open and comprehensive explanation of industry income and expenditure to help passengers understand how the money they pay in fares is being used."
The Rail Delivery Group responded: "The regulator's report shows why Britain now has one of Europe's fastest growing railways. As an industry we are focused on improving services and attracting even more passengers and freight to travel by train while reducing taxpayers' overall contribution.
"Backed by investment from successive governments and commitments made by train operators, we are determined to keep improving and have recently set out our commitments to build on the current success to deliver even better services that passengers and businesses need."