Posted 4th December 2014 | 8 Comments
'New' electric train for Northern unveiled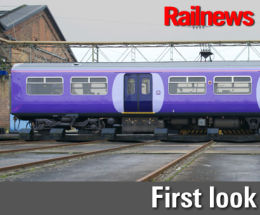 NORTHERN Rail has released the first picture of a train cascaded from the south of England undergoing refurbishment before it enters service on the newly-electrified route between Manchester and Liverpool.
Class 319 units are now bring released from Thameslink, and the first six had been withdrawn before the franchise changeover in mid-September.
More will become available soon when Class 387 units are introduced on the Bedford-Brighton route this month.
The refurbishment of the 319s, which date from 1988, is being undertaken by Knorr Bremse Rail Systems at Wolverton. The unit shown has just been returned to Allerton depot, where further work will be done.
Up to 86 four-car Class 319s will become available for cascade to the north of England over the next two or three years.
Reader Comments:
Views expressed in submitted comments are that of the author, and not necessarily shared by Railnews.
NEW trains means New train not second hand oh lucky north

(Hence quotation marks around the word 'new'. They will be new to the north but are of course, more than 25 years old.--Editor.)

Fact is many commuters in London and South East travel on PEP stock ( class 313/315 ) trains that are around 40 years old !

If the North wants new trains then they will need to build their demand with the extra capacity these 4 carriage trains provide and pay more to travel !

In Switzerland electric trains 50-60 years of age have run a perfect service .

As for diesel trains well just look at the recent decision of Scotrail to use HSTs in place of DMUs some of which may be younger than HSTs so perhaps TPE should consider a similar use of surplus HSTs once new Inter City trains are in service ?




Any word on which services they plan to switch to electric first. Would it be longer-distance services such as Liverpool - Manchester Airport, or will it be local services?

I find it remarkable that people are complaining about the stock being cascaded. They are much better than the stock that currently operates on the Liverpool-Manchester line.

It would be like people complaining if the 225 stock is cascaded to other parts of the network once IEP comes along given those Class 91s, coaches and DVTs were built around the same time as the 319s - that is before the HSTs are mentioned. If the 319s can serve a purpose on different parts of the network to improve the quality of travel for passengers then why not cascade them? They are being refurbished so are not being sent into service in a tatty state.

Electric trains have a much longer life expectancy when compared to diesels due to the fact that there are less moving parts to maintain, and electric equipment lasts longer than mechanical components. They are much more reliable and cheaper to operate. The journey experience is a lot more pleasant due to less noise and vibration, and acceleration is vastly superior to any Sprinter or Pacer.
Electrification is a huge investment in the North West, and the 319's are excellent units that will be as good as new following refurbishment. They really will transform journeys for the better.
Please don't lament the fact that they are not brand new as some of us in the forgotten parts of the country will have to put up with slow, noisy, packed out Sprinters for the foreseeable future, and would welcome even older 313's or similar if it meant a little more electrification off the London route.

Really sad that a major route like Liverpool - Manchester is getting these cast offs. They have been rattling up and down the Thameslink route for years and we often get trains cancelled due to fault on the train. Even refurbished they are not going to be anything worth getting excited about.

In BR days much rolling stock upwards of 25 years old was classified as 'C' fleet and only turned out for football specials, holiday relief services and the odd excursion. These units, cast-off from the South, will be cosmetically tarted up to provide an inferior fleet for the forgotten North.