Posted 5th March 2015 | 13 Comments
First 319s run on Northern route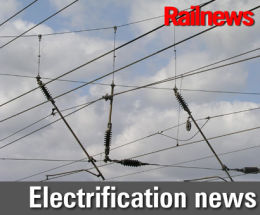 THE first electric trains cascaded from Thameslink went into service with Northern this morning. The start was three days later than planned, because inspectors from the ORR are understood to have voiced last-minute concerns about some aspects of the overhead line equipment.
However, the green light was given for the launch of public services after successful test runs.
Eight electric services a day will run between Manchester and Liverpool via Newton-le-Willows.
The 06.16 Liverpool Lime Street to Manchester Airport service was the first train to use the newly electrified route following the completion of work by Network Rail.
The trains launched today are first of a new fleet of 20 which will be introduced on the route in coming months.
Martin Frobisher, route managing director for Network Rail, said: "This first electric train to travel between Liverpool Lime Street and Manchester Airport signifies the completion of the latest stage of a much bigger electrification programme in the north west.
"When the north west electrification upgrades and network improvements are completed in 2019 they will deliver significant, long term benefits to passengers across the north of England."
Alex Hynes, managing director for Northern said: "What an exciting time for our customers in the north west! Being able to deliver these electric services to them is the culmination of years of planning and will bring more seats, more space and improved journeys for our customers."
Reader Comments:
Views expressed in submitted comments are that of the author, and not necessarily shared by Railnews.
Guess what?

The 1972 stock on the Bakerloo Line is to be refurbished to stay in use until at least 2027, when it will be 55 years old and then may move to the IOW to replace the 1938 stock (by then 90 years old)

Perhaps we could cut down the roof of pacer trains, lower the suspension and put electric motors in for the Bakerloo Line?

The class 319s maybe 25 years old however the new Northern Electrics livery they have received and refreshed interiors make them look so much younger and will be fine for many years plus they will be a welcome replacement for those dreadful class 142 Pacer units on our line although more recently we've been getting more often classes 150,156

I'm about to embark on my first 'in-service' class 319 journey later.I'm booked to drive the 15:16 Lime Street-Manc Airport.
They seem to be a substantial improvement on the current disels & especially as some have received a 'refresh' at Wolverton prior to entering service.
More seats & more capacity & about time too!

Good start, but we need these electric trains running on more than just the small stretch between Liverpool and Manchester. Of course it means more lines need to be electrified, which I hope happens as quickly and as cheaply as possible.

Too much is made of the age of rolling stock. What matters is the quality of passenger experience. The cascaded Class 319's are barely past half life and have many years useful life expectancy. With refurbishment and technical upgrades there is no reason why the basic units cannot provide many more productive and reliable years service. For comparative purposes the Merseyrail 507/508 fleets are approaching their 40th birthday and with progressive refurbishment continue to provide admirable service for the 3rd rail routes they were built for. Overall the 1980 era fleets were built to last. For those trying to promote a north/south divide remember many comparable south east routes still rely on pre 319 era builds. Also the north hasn't been completely neglected from new builds, look at the 185/350's of TPE.

Customers on the newly electrified routes will certainly notice a step change in service quality compared with the experience of the Sprinters and Pacers that are being replaced. The 319's will provide a cleaner more reliable unit than the displaced DMU's. Also there is the issue of capacity. Except where peak hour strengthening has been provided for each 2 car diesel diagram displaced a 4 car electric diagram is being introduced.

For those critics are reality check is due. When North West electrification was approved it was on the basis of affordable units being transferred to the area. Now that electrification is a reality we can start seeing a major transformation in the future prospects of the railways in the region.

I'm sure London commuters travelling on 40 + year PEP stock would welcolm 25 year old trains !

While until a few years ago,Metropolitan Line users used trains that dated from 1960 hence A60 stock !

Funny thing is a few years ago some trains were upgraded on a London route and passengers thought they had newly built trains !



there is nothing wrong with the class 319s. They work efficiently, they are refurbished, they carry passengers from a to b and will no doubt end up doing so for years to come. What is this obsession with buying everything new? The metropolitan line stock was 50 years old when they retired, and were working well. Stop complaining.

And to go back to the boring north south divide argument.

You could pay London fares, have packed 12 coach trains and peak 'hours' lasting from 6am to 10pm, if you want. Then you can complain about old rolling stock.

Does the age of the train actually matter? Surely it is its suitability for the task that it will be put to that is most relevant?

It is not that long ago that the vast majority of outer suburban and longer distance services South of London were provided by rolling stock built largely in the decade from 1957 onwards, but I don't recall an outcry from the users of those services that an equivalent train in the North was built in 1985, 1986 or 1991 and that the customers in the North were paying generally lower fares to boot. Neither was there an outcry when older class 158 rolling stock was cascaded on to the Waterloo - Salisbury - Exeter route, in place of the newer class 170s which themselves were sent north to join the TransPennine fleet.

Northern rail can't be that bad a place if they can have class 158s pottering around on stopping services, whilst elsewhere in the country class 150s have to suffice on the Cornish mainline and Pacers are sent the 40 miles to Barnstaple.

Well, actually London has always passed its hand me downs around! 1938 tube stock on the IOW, old 1972 Jubilee trains on the Bakerloo, old 1978 trains from Liverpool on the Southern, old 1973 trains ex-WCML on Chiltern & Anglian, old class 317s of 1982 ex-Thameslink on West Anglia etc etc

You could pay southern fares up north to get new trains. Peak Reading to London fare is £50.90 versus £17.60 Liverpool Manchester!

The 319s are also being cascaded to the Thames Valley and will probably be further cascaded to other newly electrified lines, whilst traffic levels increase so operators can justify suitable new trains tuned to the needs of the lines as they develop extra trade.

Can you imagine the row if London had got some refurbished 25-year old units handed down from Northern Rail for a newly electrified route.

Some contradiction in the various franchise docs., isn't there? Liverpool to MIA is to be a "regional service", but it's also to call "all stations"?

Its not a new fleet - its a fleet of trains from elsewhere on the rail network.

(As our copy makes very clear, I think. And yes, it is a new fleet -- that is, a collection of vehicles. These 319s come from a much larger fleet of 86 which is now being broken up into smaller, 'new' fleets.--Editor.)