Posted 18th February 2015 | 1 Comment
Eurostar passenger numbers rise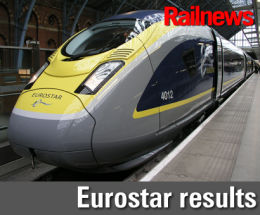 EUROSTAR has reported that the number of people using its cross-Channel services to continental Europe rose by 3 per cent in 2014, reaching an all-time record of 10.4 million. Business travel, which was badly affected by the financial crisis in 2008 and 2009, rose by 4 per cent, which Eurostar attributed to 'the strong recovery in the UK economy'.
Like-for-like operating profit was up 2 per cent, to £55.0 million (2013: £54.0 million), while sales revenues increased by 1 per cent to £867 million (2013: £857 million).
The figures have been released as the Government continues to assess whether it should sell the British stake in Eurostar, which is 40 per cent. A further 5 per cent is owned by Belgian Railways, but the majority holding of 55% is controlled by the French state-owned operator SNCF. The sale could realise an estimated £300 million but has been opposed by some critics, including the unions.
Eurostar is planning another eventful year. It will launch a new all year-round direct service to the South of France on 1 May, serving Lyon, Avignon and Marseille.
But greater expansion will be possible after ten new Siemens e320 trains have entered service from December this year. These 320km/h sets will be able to run in many more countries, including the Netherlands and Germany. There has also been speculation that Geneva could join the Eurostar network in due course, but the first new cities to be served will be Rotterdam and Amsterdam, from the end of 2016.
In the shorter term the additional e320s, able to carry 900 passengers, will allow the existing fleet, which is more than 20 years old, to be progressively withdrawn for a major mid-life upgrade.
Seven more e320s have also now been ordered, and Eurostar said it is investing a total of more than £1 billion in its fleet and service.
The operator's chief executive Nicolas Petrovic said: "2014 was a pivotal year for our business as we celebrated our 20th anniversary and unveiled our new fleet. Our new e320 trains are now in the final months of testing and on schedule to come into commercial service at the end of this year. As we introduce new trains, upgrade our stations and invest in our service, passengers can look forward to a complete transformation of their travel experience.
"Ticket sales for our new South of France service have got off to a cracking start, demonstrating, once again, the enduring popularity of the region and the growing appetite among passengers for choosing high speed rail over plane for travel further into mainland Europe."
Reader Comments:
Views expressed in submitted comments are that of the author, and not necessarily shared by Railnews.