Posted 1st November 2011 | 15 Comments
Labour's new HS2 fails to impress supporters or critics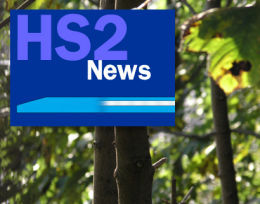 THE LABOUR PARTY has outlined an alternative route for HS2 which runs via Heathrow airport and also follows the corridors of the Chiltern main line and the M40 motorway, but the plan has received a cautious reception.
The new route for a High Speed line between London and Birmingham was presented by shadow transport secretary Maria Eagle to the Airport Operators' Association.
Ms Eagle said it would be a 'huge mistake' if HS2 did not run directly via Heathrow. She had taken in account 'some of the objections and concerns' raised by opponents to the project, most of whom live close to the proposed line. There would be more sections in tunnel, both in the north western London suburbs and also in the Chilterns, where some of the fiercest opposition is based.
However, the new route would be closer to Princes Risborough, Bicester and Banbury. Further north, the alignment on the approaches to Birmingham could follow the current official route from Leamington Spa, or instead go south of Warwick.
Ms Eagle conceded that Labour's original plan for HS2 had contained some flaws.
She said: "I don't think we got everything right in our original proposal when we were in government and having had a close look at it over the last year as part of our policy review we think that connecting via Heathrow and using existing transport corridors means that we're going to get to Birmingham in a more sensible way.
"It might be two or three minutes slower on a non-stopping service but it avoids going through areas of outstanding natural beauty and joins up better with our other transport networks.
"It seems mad not to take your High Speed train though your hub airport at the earliest opportunity – that's the lesson of High Speed in [continental] Europe."
The government has poured cold water on Labour's change of heart, with transport minister Theresa Villiers accusing the party of being 'opportunistic' and "doing nothing to contribute to the detailed, informed and extensive process that the government is undertaking on HS2".
She added: "Labour have had nine months to say something constructive on HS2 but instead have waited till the consultation has ended to oppose the government's preferred route – which they originally came up with. Labour are playing politics with HS2 and the people who strongly support the project around the country will not thank them for this irresponsible attitude."
Those who have been fighting the plans were also unimpressed, with Stop HS2 describing the new plans as 'bizarre'.
Spokesman Joe Rukin said the rethink was too late, and did not in any case deal with their concerns. He added: "We cannot understand this obsession with High Speed rail and connecting airports."
One industry source told Railnews: "This is basically the Arup route that they have been touting for the last three years. It has been assessed by HS2 Ltd and rejected.
"If there is a station at Heathrow, there is the problem that either all trains stop (in which case the route is clearly slower than the HS2 Ltd scheme) or it needs to be able to handle non-stop and stopping trains.
"There is simply no reason to pick a lengthier, slower route with more tunnels, routed across the Chilterns closer to greater population centres."
Dan Large, a spokesman for the Campaign for High Speed Rail, is dubious about the revised plans as well. He said: "We are pleased that Labour are maintaining their support for a new High Speed line. However, this newly proposed route raises some fundamental questions.
"What is the additional cost of tunnelling out of central London and under the Chilterns? By how much time with this lengthen the construction process? What will the combined cost of this be to the business case, which will presumably be weakened?
"The new route is not as straight as the old route, which will have an impact on the line speed. How much will this reduce the speed of the line? What impact will this have for return on investment in expensive rolling stock? How many services an hour will be lost as a result of the curvature of the new route?
"The new route still cuts across a lot of countryside – it does not simply follow the M40. What impact will this new route have?"
Reader Comments:
Views expressed in submitted comments are that of the author, and not necessarily shared by Railnews.
I am not against progress and have enjoyed many train journeys for work and holidays. Though we should invest in the transport we already have before spending on such a gamble which, could possibly financially cripple us. Possibilities of park and ride schemes outside of the M25 maybe will help too. With population growth too high I understand why new rail lines have been suggested but at a possible £230 million per mile it seems too great a risk. The biggest worry is all the areas where the line runs through destroying and affecting people's homes and villages. Conservation areas, wildlife and beautiful countryside including the rivers, woodlands, listed buildings to whole villages will be irreversibly affected for the sake of saving someone just 40 minutes. I believe this is unjust. We could upgrade our present rail system to Double Decker trains with office facilities on board the extra deck and more office facilities at our railway stations. We have been living in an internet run world for over 10 years. It could be far more suitable to make commuters have working facilities at our present rail stations and on board trains than trying saving such a short amount of time on commuting. The Journey from Birmingham to London is only around 80 minutes. Spending the vast amount for the HS2 to save around 35 minutes(if the trains run perfectly on time with no disruptions, suicide on tracks, leaves on tracks, wind, strikes, hot weather buckling tracks, cold weather - your service may be affected etc) does not sound a suitable solution. If they can make what we have already run a normal service before jumping into a new one would be advisable. We're presently buying our 1st house with my wife, moving to a lovely area to raise our child. If the HS2 is built it will be just 1/2 a mile from my back door- this is presently woodlands, lakes and quiet conservation areas. The works could be ranging 75 metres - 130 metres width alone not to mention the local roads now having to be diverted why they build this. If people could just cope with having to travel on the train only 35 minutes more from Birmingham it would allow one of the only suburbs of west London remain the haven it is. Running a 200mph possibly 19 hours a day will ruin our outer villages and wildlife.

Why can the British government have a quick look at how it is done with High Speed Networks on the European continent. New lines in Germany nowadays follow exisitng motorways and airports nearby are properly linked. Hence Labour's plans make lots of sense....

I live in Water Orton, which will be severely affected by HS2. We already have the toll road and motorways nearby and railway lines run through Water Orton already, not to mention Birmingham Airport nearby. Therefore, it is wrong to say that I do not know what it will be like to be affected by HS2. However, I do believe it is exciting and we should have it here in Britain. The rest of Europe enjoy high speed. I do believe it will create many jobs, I do believe it will help get heavy freight onto existing rail lines and free up capacity on our roads. I do believe it will breath new life into Birmingham City Centre. I do believe it is in the national interest now to go ahead with this project. Otherwise it may mean building more motorways. As for Paris, shopping trips for me on a widow's pension are out of the question, but I would say to every young person, go for it, its progress, its the future.

Sounds to me like this altered route will involve fiddling with the existing route, sabotaging it for years. Upgrading existing lines renders them unusable, we need new tracks! HS2 will be more like a heart bypass for the clogged-up rail system, although I reckon they don't need to enlarge Euston if they take the suburban services through Crossrail and free-up some platforms for HS2.

Please do explain why it is exciting, why Britain needs it and why it needs to be done quickly? Is this for your shopping trip to Paris and your pure lack of regard for those who will truly be effected by this travesty that has been proposed. Why the proposed £32,000,000,000 is not being spent on the dysfunctional existing network through sponsorship of British business and construction?

All the comments I read are about Birmingham/London and London/Birmingham. This new HS2 will link with the North, lets not forget that fact. Its not about saving a mere 15 minutes going from Birmingham to London, its about getting up and down the country as quickly as possible. I can envisage Scotland to the South, I can envisage going all the way to Paris and then from there to beyond etc. Its exciting, the country needs it, construction needs it, lets build it and fast.

To Tony Pearce thank you very much but I live on the M40 corridor and we have enough to contend with without you selfish suggestion that we can have some more. The HS2 rail in the current climate is a complete waste of money. Travel Time has already been cut between london and Banbury and I simply can not accept when people can work on their lap tops on the train that they have to destroy more landscape and lives for some self interest. If youwant to work in London go and live there. I do not support either route it should not be built end of. Very few will afford the fare, no one btween London and Birmingham will be able to get on the train in any event so how do we benefit. Live where you work. With windfarms blighting this area and this on top of it all there wont soon be any untained countryside left to enjoy. We have taken our hit for society with being stuck with the M40.

hs2 is planned to go via west london anyway even without a connection to heathrow. at least this way it can follow exisitng lines which is something hs2 critics keep going on and on about ! but there seems to be as much criticism of hs2 following existing routes through west london as there is along the route which will mostly follow existing and previous transport rights of way through the chilterns.

why would you leave out a potential source of customers ? and if we want people to reduce short haul flights then surely an airport rail connection is a good way to do this. people are going to use airports whether we like it or not, and are currently use connecting flights or cars to get there !
heathrow should become an integrated transport hub not just an airport. if your flight goes to heathrow but you are going to birmingham city centre a flight and transfer could hardly be quicker then by hs2.

Enough already! The Labour Party has had months to put this route forward in a constructive way - in doing this now will only achieve more blight impacting peoples lives. We need the government to make a decision sooner rather than later so we all can move on.

Odd that Ms Villiers is now pouring cold water on the revised route, as this particular route was favoured by her when the Tories were in opposition....

The current HS2 route is by far the best and we should stick with it ignore and ignore its opponents who even Geoff Robinson (opposes HS2) Coventry MP says are NIMBYs.
He claims Coventry does not benefit from HS2.
Fact is Coventry will in effect have two stations current city station and HS2 Interchange just 15minutes away and probably quicker and easier to get to Interchange and more car parking.
Coventry will have improved services with more destinations locally regionally and nationally from city station AND the very fast HS2 services major UK cities in the North/Scotland and through to Europe

Its about time Coventry woke up to the spin/deception opponents of HS2 have misled them with and campaign for the benefits HS2 will bring us all even those in the NIMBYshire of N Warwick, Kenilworth will benefit from HS2 as will Solihull Hampton in Arden Chelmsley Wood Coleshill from increased property values and a far superior rail service to that we have today
I should not forget to mention the proximity of HS2 Interchange to Birmingham Airport in conjunction with hS2 would result in more direct air services to international destinations for Birmingham and West Midlands
So lets get on and build HS2 delay costs money and jobs.


Why build a line which will also FEED airport traffic instead of a realistic alternative? We need fast through routes served by frequent trains with affordable fares to a wide range of cities. Plenty of unused paths through the Channel Tunnel, plenty of people who hate airports, plenty of potential. Oh sorry, I forgot the profit motive. Single to Heathrow please...

HS2 in principle is a good idea. Why can't we upgrade existing parts of the track, rather than ploughing up more farmland.Chiltern railways just recently upgraded some parts and managed to shave 30-40 minutes off the travel time. I am sure this could be completed on other parts to get the fast service. Or just run trains driect from Birmingham to London with no stops? A whole new track system seems excessive.

The M40 corridor has ruined the countryside but it means a new HS2 line can go there without doing any further environmental damage.

Not running the line to Heathrow was always madness.

Maybe we can all sit down now and rationally discuss what this country actually needs in transport infrastructure.

I was and still am still a great opponent of the original route for the HS2 line. This new plan is definitely 2 steps forward.

I fail to see why people wishing to travel to Birmingham and farther north need to be sent on a wasteful tour of Heathrow Airport which simply adds time to their journey. Anyway the way Chiltern Railways is developing it will soon be quicker to Birmingham from Marylebone than it will be by HS2!!

Fact is Heathrow is in the wrong place for trains from London and should instead be on another High Speed Line from the West Country!!

As to the Tories complaining about the timing well lets wait and see what Lord Adonis says when only part 1 of HS2 is announced given that he supports the full network in a single bill. Something that would allow Network Rail to factor in HS2 in their upgrade plans now - (e.g if they new the route of HS2 then Network Rail could replace a 2 track bridge with a 4 or even 6 track bridge knowing it would be used by either HS2 or existing services diverted onto new routes thanks to HS2.)