Posted 16th May 2019 | 7 Comments
HS2 has 'fundamental flaws' says Lords committee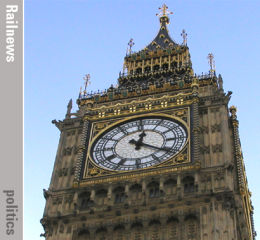 THE project to build high speed lines linking London with the midlands and north of England needs a 'major rethink', according to the Economic Affairs Committee of the House of Lords.
The Committee has criticised HS2 on previous occasions, and its latest report casts new doubts on the scheme, which it says has 'fundamental flaws'.
The report, 'Rethinking High Speed 2', maintains that the north of England should be the priority for investment, and that the costs of HS2 'appear to be out of control'.
The Committee also recommends that the maximum speed should be reduced on new high speed lines to cut costs, and that the line from Birmingham should terminate in west London rather than Euston.
The government said it 'fundamentally disagrees' with the report's findings.
Committee's chair Lord Forsyth of Drumlean said: 'Commuter services in the north of England are badly overcrowded and reliant on ageing trains. Rail connections between northern cities are poor. As the Committee suggested in its 2015 report, rail infrastructure in the north should be the Government's priority for investment, rather than improving north-south links which are already good. The north is being short-changed by the Government's present plans, especially as construction on HS2 is starting in the south. Any overcrowding relief from HS2 will mainly benefit London commuters.
'The plans for Northern Powerhouse Rail should be integrated with the plans for the northern section of HS2, and funding for the project ringfenced. This will allow rail investment in the north to be prioritised where it is most needed.
'The costs of HS2 do not appear to be under control. It is surprising therefore that the Government has not carried out a proper assessment of proposals to reduce the cost of HS2—such as lowering the speed of the railway or terminating in west London rather than Euston—which the Committee recommended in 2015. A new appraisal of the project is required.
'If costs overrun on the first phase of the project, there could be insufficient funding for the rest of the new railway. The northern sections of High Speed 2 must not be sacrificed to make up for overspending on the railway's southern sections.'
The report is also critical of the Department for Transport, saying that its 'method of appraisal for large infrastructure projects is not fit for purpose. Despite the main justification of HS2 being to increase capacity on the rail network, DfT's assessment of benefits places too much emphasis on time savings for travellers, and too little emphasis on the transformative effect railways can have on local economies. This appraisal method has distorted decision-making …'
The DfT said: 'By 2020, the government will have invested a record £13 billion in transport across the North, and we have a clear plan for linking the Midlands and the North through HS2 and Northern Powerhouse Rail - the full benefits of which can only be delivered on the back of HS2. This is not either/or, we are clear we want both.
'HS2 will deliver additional rail capacity, significantly improve connections and provide opportunities for economic growth – with around £92 billion in benefits – for people and businesses across the North.'
Reader Comments:
Views expressed in submitted comments are that of the author, and not necessarily shared by Railnews.
With reference to David Smith's comments/suggestions.

Options to relieve the hopelessly overworked Rugby-Cov-Bham corridor have been looked at since my days at BR, in the 1980s. Four-tracking is impossible without ploughing through housing and new tunnelling and huge disruption to services over 5+years.

A new junction at Berkswell is the last thing the line needs in terms of relieving the stop-starts you rightly describe! Grade separation at Stechford would help at the margin but couldn't begin to justify the 0.5 billion pound cost.

HS2 is the solution. Most London passengers on their own dedicated route. Failing that, if we wait until 2040 or whatever (no thanks!!!), how about the following:

- Four new subterranean platforms at New St.
- New route following HS2 alignment to new platforms near Bham International.
-- New 180mph route broadly parallel to existing WCML, mostly in tunnel to Cov (new platforms, under existing).
- New 180mph route in tunnel where required, bypassing Rugby and joining WCML fasts around Roade/Hanslope
- Reopen Great Central south of Rugby to take ALL freight off WCML towards Euston.
- Build HS2 Phase 2a so that Bham New St's new platforms could also serve Manchester via Crewe.
- Most/Some Euston-Mancheater/Scotland trains to divert at Hanslope onto the new 180mph route(s) to Crewe, bypassing Brum city centre

This would work nicely, I think. But it would set us back a decade in terms of getting the rail capacity we need NOW!

Hence I am behind HS2, 100%, but expect clueless politicians to cancel it within a few months.

HS2 will still happen. But it's likely to be over budget.

Might it be feasible to improve any capacity problem on the Coventry - B'ham New Street section by

(a) relaying Berkswell - Kenilworth , to divert container traffic to Southampton away from the Coventry area?

(b) Remodelling the currently flat junction at Stechford, ( and at Berkswell)?

Whenever I've travelled to Birmingham by rail, the train can often encounter a "stop -start" slow - down west of Coventry.

HS2 Phase 1 will massively benefit the West Midlands by taking most London passengers off the hopelessly congested and crowded Rugby-Cov-Bham corridor.

The House of Lords committee chooses to ignore this in their media briefing, predictably.

The UK needs more Rail Capacity from Scotland to South East England. New Lines certainly but do they have to be 'High Speed' ? 'High Speed' means a lot more money building Tunnels with a bigger Loading Gauge so the heat generated by the friction isn't as great. (very noticeable in the Channel Tunnel.) 'High Speed' means trains can't be diverted to other lines. So maybe a new line with Azumas may be the answer but not at the speeds originally envisaged.

I reckoned 'Rethinking High Speed 2" needs rethinking given its nearly 5 years out of date and takes no notice of the brand new trains being delivered for Northern railways both Regional TPE and local Northern Railways thus removing Pacers which in reality are far younger than trains Londoners still use! HS2 provides the north with brand new modern railways and as for speed well worth remembering how Brunel built hits GWR for unheard speeds of 50 mph enough to shake a person skeleton vapart according to ancestors of Lord Forsyth!

"The plans for Northern Powerhouse Rail should be integrated with the plans for the northern section of HS2"

Which it is. Already, Have they even looked at the plans?