Posted 1st October 2018 | 4 Comments
Boris Johnson under fire over anti-HS2 remarks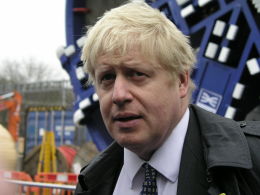 FORMER foreign secretary and Mayor of London Boris Johnson appears to have caused a new split within the Conservative Party by calling for HS2 to be put back in favour of a new west-east line across the Pennines.
However, senior ministers have rallied in favour of the high speed project, which will eventually connect London and the West Midlands, from where two spur lines will run to Manchester and Leeds.
Speaking at the start of the Conservative Party conference, Boris Johnson said a direct line between Manchester and Leeds should come first.
'There are projects we should have on transport in the north of the country that ought to take precedence over HS2,' he said. He continued: 'It's crazy how long it takes to get east-west across the country.'
Although he is not the only politician to express this view – another is Jeremy Corbyn – his latest remarks have been criticised by the Northern Powerhouse Partnership, a think tank set up by former chancellor George Osborne. It said the issue was not a matter of choosing one project or the other.
Meanwhile, Tory party chairman Brandon Lewis insisted HS2 'was still on track', describing it as a 'really important infrastructure project'.
Home secretary Sajid Javid also defended HS2. He told the Birmingham Mail: 'Boris is not a member of the Government. The government is absolutely behind HS2. A huge amount of effort and investment has already gone into that.'
Reader Comments:
Views expressed in submitted comments are that of the author, and not necessarily shared by Railnews.
The man is a populist buffoon. Of course he (and Mogg) turn their guns on HS2 when public opinion has, for whatever reason (a lot of car buying?), turned against it for now.

The task for those on the ground is to make sufficient progress in short order to ensure that any replacement to Theresa May finds its far too late to stop.

Chris Grayling is just as bad. Causing such problems with our railways no matter what money is been thrown into our railways.

Yet again despite having been London Maywhike Crossrail was built Boris Johnson demonstrates how he doesn't do detail !

The reality is HS2 will form part of NPR project and as plans for HS2 were originally drawn up a decade ago before NOR/ HS3 was thought of its been decided to hold up legislation for phase 2bof HS2 to allow NPR to be combined with HS2 thus increasing the network covered and of course HS2 will provide for East to West journeys across the north of England.

What is needed is plans for trans penine tunnels of at least HS2 size or maybe bigger if plans to transport lorries under the peniines are developed.

It would be better if Boris Johnson had called for a station on HS2 where it crosses east west rail project .

Rather ironic that Boris wants HS2 scrapped but then calls for a bridge to Northern Ireland from Scotland!