Posted 27th November 2018 | 7 Comments
HS2 reports to stay secret, says DfT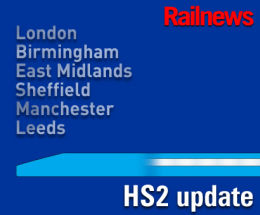 TWO reports which examine the options for digging a tunnel for HS2 in the Wendover area of Buckinghamshire instead of a viaduct are to be kept under wraps, according to a Department for Transport minister.
The decision was revealed to Lord Berkeley, in response to a request for copies of both reports. One was prepared by SDG, Nichols Group and KPMG, while the other was commissioned from the Infrastructure Projects Authority.
Lord Berkeley asked on 26 November for copies of the documents to be placed in the Libraries of both Houses of Parliament.
However, Baroness Sugg refused, telling him: 'The reports in question were referred to in a letter from Nusrat Ghani MP to the Right Honourable David Lidington MP on 15 October 2018.
'The Government will not be placing copies of the reports referred to in the Libraries of either House. These reports are internal to the Department for Transport and are not intended for publication.'
The contents of the letter to Mr Lidington from Nusrat Ghani have also remained unpublished.
Mr Lidington is a supporter of an extended tunnel near Wendover rather than the proposed viaduct.
In June 2015 he told the HS2 Select Committee: 'Small Dean Viaduct would be just to the south of Wendover, shortly before the railway line would enter the proposed green tunnel under current plans. This viaduct would be 14 metres high. The pantograph would take that up to 20 metres, mast to 22 metres.
'Quite frankly that would dominate the landscape and the lack of existing good quality noise mitigation combined with the height would cause noise blight across a wide area to the south of the village.'
Reader Comments:
Views expressed in submitted comments are that of the author, and not necessarily shared by Railnews.
Perfectly understandable. Why would the DfT want the general public to know that its £60bn scheme has a business case marginally worse than that for the rebuilding of the Kelvedon and Tollesbury Light Railway?

From what has already been published, it seems the benefit / cost situation has been marginal from the outset. Yes, it is as much about capacity relief as about very high speeds, but it does appear that the chosen route and ultra high speeds are each questionable .

Without going into long - winded looks at alternative projects fulfilling the same aims , there is little doubt in my mind that more cost - effective alternatives exist. Perhaps someone in government has "boobed"and doesn't want the public to know?(All three of the main political parties have backed this project ).

Those of us in areas affected by this HS2 route understand the call for more tunnelling to protect the environment in which we live. Those outside of those areas have no concept of the impacts of HS2 during and after construction. Communities are being torn apart without adequate compensation, either financially or socially. Unfortunately our calls for wider understanding of the problems fall on deaf ears..too many vested interests in a political vanity project.

These people want pointless tunnels and then complain about rising cost of a project!

If they want a vanity tunnel then it should be funded by local council tax supplements ! Referendum anyone?

AONB - Area of Outstanding Natural Beauty... an oxymoron acronym.
The land where HS2 will be built was under a Glacier just 10,000 years ago.
Every square metre of the UK is Man-Made! Created, cultivated, crafted, designed to be what our ancestors of the past few hundred years Desired.
If NIMBY NIMLE's do not want to view a viaduct, they can pay for Portland Stone Cladding to make it more appealing. Thing is when they have to Pay for what they want... they will always choose it is actually perfectly acceptable.

Noise Noise Noise… Siemens ICE4 BR412 units produce less noise than any other train designed, built and on rails anywhere in the UK. By the time the LGV opens, the trains will have even better noise dampeners.

From a passenger perspective, the entire HS2, 3, 4, … 36 etc should ALL be on Viaducts. There will be no level crossing, animals and people can pass under, plus everyone onboard can get to see these AONB up close and with postcard selfie images posted everywhere.
There are two lines: West Highland and Dawlish Coast, people travel on them just for the scenery. Banishing HS2 underground will deprive passengers of their enjoyment of the AONB along the route.


I am already intrigued. Why the secrecy ? Cost perhaps ? I can't see how a Tunnel could affect Property Prices for example. The worst thing you can do in Government is to tell people they can't know something. Just like throwing Petrol on a smouldering Fire; - and instant flare-up and suspicions of skulduggery everywhere.