Posted 12th February 2019 | 5 Comments
Government 'fully supports' HS2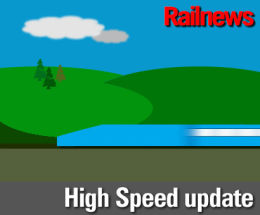 THE Prime Minister has insisted that she remains 'fully committed' to HS2, after a Channel 4 documentary claimed that ministers are seeking to cancel the project, or at least restrict it to Phase 1, which is the London to Birmingham section.
A spokesman at No 10 Downing Street said: 'The PM remains fully committed to HS2. HS2 is working with its supply chain to ensure this essential project is delivered within the budget set by government.'
The announcement has been welcomed by the Railway Industry Association, whose chief executive Darren Caplan said: 'The Railway Industry Association welcomes comments made by the Prime Minister's spokesman, that Theresa May remains fully committed to HS2, and that HS2 is working with its supply chain to ensure this essential project is delivered within the budget set by government.
'HS2 is an exciting project which is making strong progress, with over £6.5 billion of construction contracts already awarded for Phase 1 of the project – from London to the West Midlands – with more contracts to come over the next few years. The Bill for Phase 2a – West Midlands to Crewe – is moving at pace through Parliament too. And the Bill for Phase 2b – West Midlands to Leeds and Crewe to Manchester – will follow in due course.
'HS2 is happening. The focus now needs to be on working to ensure we deliver this world-class project, to the benefit of the UK economy, passengers and freight users, taxpayers, and ultimately communities who will see greatly enhanced connectivity to all parts of the UK.'
Reader Comments:
Views expressed in submitted comments are that of the author, and not necessarily shared by Railnews.
Why not just allow Phase 1 to be built first. Then plan ahead for Phase 2. That way the Government can save money to be used on both HS2 Phase 1 and HS2 Phase 2. Or will it not work.

Not forgetting Crossrail which is still being left behind that should of been completed late last year. Which is now expected to be completed before the end of 2019 or from 2020.

The Despatches programme was typical ill-informed populist dross. Brave journalism these days is pointing out the transformational benefits of HS2.

Shame Hallighan didn't try travelling on packed peak London trains between Birmingham and Coventry. His microphone would have been stuck somewhere uncomfortable.

I would really like HS2 because it would help the regeneration of Aylesbury Garden Town and the phase 1 will help the demolition of National Grid Pylon Network

The HS2 Government site carries details of amendments to the HS2 West Midlands to Crewe bill with details of conversation of a platform at Crewe Station to take full length 400 metre HS2 trains .

Given how Leadsom is in charge of Governent business you would have she would be aware of the update to HS2 bill which proves HS2 won't end at Birmingham..

Most of last nights Despatches programme was devoted to moaning about 2 carriage pacers but with no mention of new trains on order which will replace these trains entirely....

It's worth remembering that Pacers are still younger than many trains London has which are around 40 years old !