Posted 5th March 2019 | 10 Comments
Welcome for extension of Midland electrification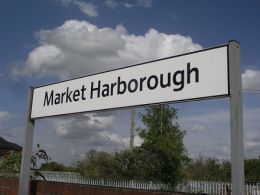 ELECTRIFICATION of the Midland Main Line is set to be extended from Kettering North Junction to Market Harborough station.
Transport minister Andrew Jones told the House of Commons that 'Network Rail has been instructed to design an extension of electrification infrastructure'.
The MP for Harborough, Neil O'Brien, asked the question which revealed that a design is now being drawn up.
Mr O'Brien said: 'This is great news. I've been making the case for this to the Department for Transport for a number of months and I'm pleased to see they've agreed with the strength of the case put forward. While nothing is guaranteed, it is a big leap forwards that they are now drawing up a detailed design.'
He continued: 'I have pointed out to ministers that the power supply for electrification north of Bedford will be at Braybrooke. Rather than running an expensive cable connection south from Braybrooke to overhead wires that end in Kettering, it would make more long-term sense to extend the planned overhead wires up all the way into Market Harborough.'
Transport minister Andrew Jones added: 'At Outline Business Case stage in March 2018 this was determined to be the best value for money option for making the power supply connection. In line with normal practice, this will be tested again when the overall Midland Main Line programme Key Output 1a, of which Market Harborough electrification is a constituent part, is assessed at Full Business Case stage.'
The Railway Industry Association and Midlands Connect have both said the extension is welcome.
RIA technical director David Clarke said: 'As this decision shows, electrification is clearly the optimal solution for intensively used rail lines, and the Railway Industry Association's Electrification Cost Challenge, due to be published next week, will show how we can deliver schemes even more cost effectively in future. We look forward to working further with Government to deliver a rolling programme of electrification, once the report is published.'
Midlands Connect director Maria Machancoses added: 'Extending Midland Main Line electrification from Kettering to the national grid supply point at Market Harborough is the first step towards giving the East Midlands the transport infrastructure it deserves.
'The next steps include extending electrification to Leicester, Toton and Nottingham, to support Midlands Connect's ambition for direct conventional compatible HS2 services between Leicester and Leeds and Nottingham and Leeds, via Toton.
'We are developing a business case for these links in collaboration with HS2 Ltd, and will continue to work closely with Transport for the East Midlands, other regional partners and the Department for Transport to ensure positive discussions continue.'
Reader Comments:
Views expressed in submitted comments are that of the author, and not necessarily shared by Railnews.
Folk seem to think Class 91 and Mk4 are they answer but there are gauging issues. Some bridges south of Leicester were raised before Grayling got cold feet, others remain an issue, as does London Road bridge Leicester - it's one you cant raise, and may need to dig down?

Hitachi 802s - not if they'll have ironing board seats.
Bombardier bi-modes - well given the delay with their 710s for Gospel Oak-Barking, I wont hold my breath.

No one mentioned Stadler bi-modes? They could be the surprise to the party.

Salami-Slicing makes its reappearance!
Hopefully, this is the beginning of the end for the ridiculous incompetent & doctrinaire Grayling

If "incremental electrification" is the future, leaving "gaps"unelectrified ( the difficult / expensive sections , typically through tunnels, for example), the question arises as to what type of trains should use such infrastructure.

Class 800 type trains, with dual straight electric / diesel electric power may not be optimal. Would battery energy storage be a better, cheaper alternative than auxilliary diesel - alternator sets ? The only route where switching from pantograph to battery would be unlikely to be feasible might be Paddington - Devon & Cornwall, where catenery will only stretch as far west as Newbury.

Slightly off-topic, but lately all the announcements seem to be coming from Andrew Jones rather than Chris Grayling.

Am I reading too much into this?

I'm afraid that as far as England is concerned, this is the future - incremental electrification. A sad contrast with Scotland but it seems to be the best game in town at the moment. After the GWML debacle, not surprising. Remember an irate Ernest Marples after the massive cost overruns & delays on WCML phase 1?

Leicester makes a lot of sense, given the mass exodus from Sheffield bound trains stopping there. Has any clearance work been done on the approach to Leicester (Midland) under London Road though?

Electric or bi-mode rolling stock? Bit late for 802; Newton Aycliffe runs out of work next spring & Pistoia's busy. As for Corby, IC225s (91+Mark4) released from the ECML, possibly shortened, would seem to be blindingly obvious but everyone's fighting shy. You're running out of time, chaps-----!!

Complete the job by electrifying the MML from Market Harborough up to Sheffield and on to Leeds. That is a better backbone for the country. That way East Midland trains could run in competition to LNER to Leeds.

A chink in the armour?

With existing electrification projects coming to fruition time to grasp the opportunity to regain the momentum and ensure continuity of employment of the electrification teams. So much of the excessive cost in recent projects has been in the mobilisation phase as project teams were created and lost skills regained.

As NR have already undertaken extensive signalling re control in the East Midlands & Bristol area time to complete the package with electrification as originally proposed?

Despite the tribulations of completing the Blackpool to Manchester stage of the current a north west scheme several routes such as the CLC route via Warrington Central cry out for infill electrification. Time also to agree to full electrification of the a Trans Pennine route as originally proposed. Yes disruption will be a consequence of the construction phase but we should expect more than political cowardice from transient transport ministers hindering a necessary infrastructure investment.

This is a very worthwhile solution.
I have looked at the line in detail from my virtual helicopter and feel that after this electrification, with a train like a Class 802, that times between St. Pancras and Leicester could be around an hour.

Times could be even better with Bombardier's proposed 125 mph on bith electric and diesel bi-mode.

I also wonder if the troublesome section to electrify, that lies to the South of Leicester, which has lots of road bridges, could be electrified using the methods proposed for the South Wales Metro.

So Leicester, Nottingham, Derby and Sheffield will not see the electrification happen which would of reached to these 4 cities in the East Midlands. Whilst instead Bi-Mode trains is a better option which is to be built and to replace the ageing Class 43 HST Mk3 Intercity units and Bombardier Class 222 Meridian DEMU units. With the possibility of Class 222s to be cascaded to the Republic of Ireland or cascaded to other routes in England such as transferring the Class 222 Meridian units to Crosscountry or Class 222 to be transferred to be stored rather than scrapping them.

From Market Harborough it is only about 15 miles to Leicester. How many trains terminate there? So why not carry on to Derby and Nottingham - which only leaves out Chesterfield and Sheffield.

Come lads let's make a VERY BIG DECISION!

.....and while you are about it complete the job by extending the wires to Doncaster!