Posted 28th June 2018 | 15 Comments
MPs want cancelled electrification schemes rescued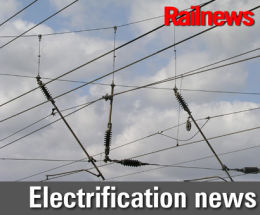 A COMMITTEE of MPs has recommended that electrification schemes cancelled over the past year should be revived and placed in the 'pending' tray for the time being.
The call for a rethink has come as the Commons Transport Committee published a report today on infrastructure, entitled Rail infrastructure investment, in which it said the government must do more to help the regions which had been 'short-changed' on rail spending.
Electrification schemes which were set out in 2012 but later cancelled include Kettering-Nottingham/Sheffield, Cardiff-Swansea, Didcot-Oxford, Chippenham-Bath-Bristol Temple Meads and Oxenholme-Windermere. East West Rail had also been selected as part of the ambitious scheme to create an 'electric spine' for freight stretching from Southampton to the Midlands and North, but it is now being built as a diesel route for commuter trains.
These schemes should now be placed in the Rail Network Enhancements Pipeline, says the report, for further development and design work 'with a particular focus on reducing the costs'.
The Committee believes action is needed to 'rebuild confidence' in the Department for Transport and Network Rail in the next Control Period, which will run from 2019 to 2024, because there are still 'real funding gaps between London and regions in need of economic regeneration, which will worsen if not addressed more directly'.
The MPs found that current methods of appraisal will always favour London as they are weighted heavily towards the reduction of congestion and journey time savings. However, such an approach places 'less economically buoyant regions' at a disadvantage.
Lilian Greenwood, who chairs the Committee, said: "The Secretary of State's cancellation of three electrification schemes in the Midlands, south Wales and Lake District only to be followed four days later by the announcement in principle to fund Crossrail 2 in London unsurprisingly re-ignited the debate about disparities in rail infrastructure investment.
"The Treasury's own data shows that spending per head in London in 2016/17 was more than ten times that of the East Midlands. Regional economies will never be able to catch up with London while such inequalities exist.
"Some regions have faced decades of under-investment in their parts of the rail network. They deserve to have a clear sense of what the Government is doing to help them attract transport investment and grow economically. The Northern Powerhouse and Midlands Engine will struggle to live up to their names without tangible change."
Reader Comments:
Views expressed in submitted comments are that of the author, and not necessarily shared by Railnews.
During an urgent question today re GTR questions re electrification arose and Jo Johnson gave a reply re MML that electrification would go to Market Harborough! This is further than plans to Corby ...

Deleted by moderator (Guidance Note 3.)

Fully complete Midland Main Line electrification, and modernise and electrify the Chiltern line making it the main route from Birmingham to London.
Do this and we wouldn't need HS2, and all for fraction of the cost.

The limited extent of electrification of the UK network should be a matter of national embarrassment. There is a reason why the HST is officially the world's fastest diesel train - every other nation worth their salt was electrifying, rather than making do with 'on the cheap' diesel electric traction for high speed, high volume, trunk routes.

I totally agree with the views expressed regarding a rolling programme of electrification. This programme needs to form part of a wider plan covering remodelling of track layouts, re-signalling and rolling stock fleet utilisation, to ensure that wider investment is as efficient as possible.

One needs to ask the following questions of investment in Electrification. 1 Will it be cheaper for the Taxpayer and Passenger after installation ? 2. Will it provide more trains and/or more Seats ? 3. Will it be quicker ? The manufacture of Electricity and of the Wires, Gantries and new Electric Trains has an environmental cost as well. Diesel Engines can often be just as cheap and environmental friendly as Electric ones. Overhead Electrification is generally only cost-efficient on busy lines such as heavily used Commuter Routes. 3rd Rail is often a much cheaper option which shouldn't be dismissed either even with its tendancy to 'ice-up'..

@ Tony Pearce, Reading
------------------------------------------------------------------------------
No, no and no........

Railway electrification should NOT be based on financial returns, it should IMO be based on the need to remove diesel power, comply with our carbon emmission commitments, and turn much much more of our rail infrastructure into mini power generation systems.

The reason why electrification is so relatively expensive is because we approach each scheme separately, costed as a standalone project, and hire and fire the associated staff.

What we desperately need is a rolling programme of wiring using dedicated expert DfT electrification teams using the factory trains. It is completely ridiculous that we hire and train engineers at great expense, and then get rid of them when the project is completed. You instantly lose the expertise gained during construction.

There desperately needs to be a line entry in annual DfT budgets for electrification, say £100M pa......

Just get on with it.......


scap the hs2 and spend the money on regional rail

I see no reason why Cardiff - Swansea electrification should not be back on the table once the existing electrification to Cardiff is complete. My thinking is that we have a team of people who are working on the current electrification and I see no problem keeping the work going. The trains that will be running to Swansea are equipped for electric, so it's not as if the expense of new trains would be factored into the equation. The same should go to Swindon - Bath - Bristol TM. Bristol should have electric up the bank to Parkway as well, this is the middle of a city and diesel train use should be cut to a minimum due to emissions if nothing else, maybe even taking electrification out towards Weston-Super-Mare eventually.

With all the spare EMU's soon to be available extending the Midland electrification to Leicester would make sense with the Midlands service being split. A contained EMU service every 30 minutes to Corby/ Leicester with cross platform interchanges at Leicester to the Inter City services to Sheffield and Nottingham. These should be run 30 minute frequency to both destinations using new build IC bi-mode stock. The 222's could be rebuilt along with Cross-Country's 220 / 221 with cleaner (interms of emissions) more powerful engines and pantograph cars rebuilt from some of the driving cars. This could give a fleet of 49x 7car unit and 12x 6 car units along with the 5 HST's solving the lack a capacity and making a better ride under the wires. If Virgins fleet was included by replacing 7 sets with MK4 7car plus 91 and DVT (Kitchen) VT could retain 14 x 7 car bi-modes and CC's fleet rebuilt to 60 x 7car plus HST's

What about North Downs Line, Uckfield Line and Marshlink Line to be electrified with DC 750V 3rd Rail as that's too been cancelled and Bi-Mode & Tri-Mode trains are to be operated on the North Downs Line and Marshlink Line. As parts of the North Downs Line is already electrified with 3rd Rail. Not forgetting the Felixstowe Line from Ipswich to Felixstowe and Felixstowe Port that were planned to be electrified. But instead Bi-Mode trains and freights (such as Class 88's that are Bi-Mode freight locomotives and used on charter duties).

Sounds a good idea. Suggest government gives in principal approval and Network rail or a contractor does it in stages. Perhaps gauging work first to allow larger container trains to run on freight, then signalling/line improvement before electrification. With hybrid trains starting point could be big cities/towns to cut pollution in populated areas.

Sir Peter Hendy has already suggested the best option of a rolling programme of electrification with a set amount each year devoted to extending the wires and not necessarily the grand projects like Great Western or MML electrification as the beauty of electrification is as it extends then different options become viable .

On the GWR completion of electrification of surburban lines along Thames Valley and on to Oxford would have the benefit of releasing DMUs to allow upgrades to services or trains providing them further down the line.

As for the MML it seems the location of a sub station designed to power full MML electrification could make it logical to extend current electrification to Market Harborough . While projects like that at Derby should at least include installing bases for future electrification thus avoiding one of the major problems GWR suffered through unknown buried infrastructure.


Hybrid trains need to be seen as a bridge towards electrification and not a long term alternative !

While it seems straight electric trains use around 85% of electricity generated . Hydrogen trains only have a 30% efficiency thus wasting 70% of electricity generated !

we need to invest in rail in the UK.

electric trains means lower running costs, more seats, less pollution &

faster trains.

electrifying to Sheffield, Swansea, oxford should happen.

The question should be - 'Which Railway Schemes show the best return for money invested ?'. It shouldn't electrification just for the sake of it. No doubt the MPs are considering votes from their Voters. I am aware of the way that some Oxford Commuters are now having to change at Didcot and a little bit of inconvenience. But the delay walking from Platform 4 to 5 is negligible, and there is very little time between the arrival and departure.

The Northern and Trans Pennine franchises were let on the basis of the delivery of electrification of the North West Triangle & North Trans Pennine routes. While delivery of the final stages of the North West electrification has been woeful (the postmortem regarding contractor failures, geological discoveries etc.. is for another debate) the long term benefits will be well worth the wait. Filling in the gaps from Manchester to York through Leeds should be a no brainer. Given that some of DfT's thinking regarding the worth of various northern routes is now public knowledge thanks to the release of emails via freedom of information requests it is high time, especially given the embarrassments of last few weeks, that the Transport Minister & the DfT show renewed commitment to the north's network. If they can't then it is high time for that powers & finance is devolved to statutory northern bodies to follow where Scotland & TFL have shown the way in bringing positive change to their devolved transport networks.

Regarding the Midland route once Derby resignalling is completed this summer NR will have undertaken a substantial part of the infrastructure work required to upgrade the route. The missing link is the previously promised electrification. Every effort should be made to put this back into the programme given that track layouts & signalling will already have been designed, or should have, in anticipation of the wires going up. While the obvious benefit will be to the passenger operators remember that the freight operators also stand to benefit from gauge enhancement creating additional flexibility of routing for intermodal services from the east coast ports to the Midlands & North West distribution centres. Even the overheated South East gets to benefit by removing freights from the congested North London routes. A case of everyone gaining from joined up national thinking, if only!