Posted 2nd October 2018 | 2 Comments
Compensation for train delays to be boosted again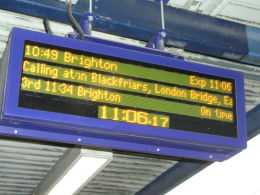 WAYS of obtaining compensation for late-running trains are to be improved. New figures released by the DfT show that the amounts being claimed are climbing, reaching £81 million in 2017-18.
Future franchise holders will be required to provide simple 'one-click' automated claims systems, accessible from smartphones and smartcard registrations.
Northern will be the second operator to allow Delay Repay claims after a delay of 15 minutes from the end of this year. The first to reduce the window from 30 minutes to 15 was Govia Thameslink Railway.
In 2009 just £2.9 million was claimed by delayed passengers. However there were less generous windows for compensation nine years ago, and the methods of claiming were more complicated, with no Delay Repay or other forms of semi-automatic payouts. Passengers were also less well informed about their rights, a situation which was frequently criticised by consumer organisations.
The total amount of compensation paid to passengers has risen by 80 per cent in the past two years, as the government has increased the obligations of train operators to publicise passengers' rights. The DfT also said claims are being dealt with more quickly, with 67 per cent now resolved within two weeks compared to 48 per cent in 2016.
Punctuality has fallen sharply this year, partly as a result of the disruption caused by continuing industrial action affecting some operators but also because of the failure of new timetables introduced in May, which turned out to be unworkable on Govia Thameslink Railway and Northern.
The highest payments for late running in 2017-18, which do not include disruption since March, were Virgin West Coast (£17.4 million), South West Traiins (South Western Railway from August 2017) (£17.2 million) and Virgin Trains East Coast (£14.6 million).
Jacqueline Starr, managing director for customer experience for the Rail Delivery Group, said: 'While rail companies are working together to improve customer satisfaction, sometimes things go wrong and we're doing even more to encourage compensation claims.
'To meet our commitment to improving for customers as part of our long term plan, we are introducing an independent ombudsman and we would welcome changes to franchise agreements that make claiming compensation even easier.'
Transport Focus spokesman Anthony Smith said: 'After recent disruption, "one-click" automated compensation for delays on the railway cannot arrive too soon, so we look forward to seeing this in the new franchises for Southeastern, East Midlands and the West Coast Partnership. Our research does show that while it's now easier to claim far too many passengers still don't request the compensation they are eligible to receive. Train operators still have a lot to do before the majority of eligible passengers get the compensation they deserve.'
However, Labour shadow transport secretary Andy McDonald said: 'After eight years of failure on transport, the time for tinkering at the edges is over. Rail is in chaos and the Tories' one-click compensation plans are yet another cheap gimmick which does nothing to tackle the underlying problems causing misery to passengers across the country.'
Reader Comments:
Views expressed in submitted comments are that of the author, and not necessarily shared by Railnews.
What about Greater Anglia. They also have caused delays to services in Essex and East Anglia and with commuters having to use 4-Car trains that are completely full up and no seats available during rush hour in mornings and evenings.
[Many commuter services are often full and standing at the busiest times. It is not a matter for compensation. See www.railhub2.co.uk/rh7/revealed/rai_article.php?doc=13342402.--Ed.]