Posted 18th September 2018 | No Comments
Bad weather and over-ambitious timetables dented performance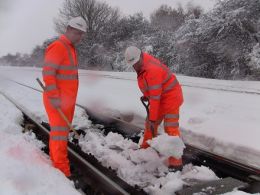 SAVAGE winter weather and over-ambitious spring timetables have dented rail performance over the past year, according to the Office of Rail and Road.
Punctuality sagged to its lowest for 12 years partly as a result of the 'Beast from the East' which swept across the country in February and March, bringing ice and snow to almost everywhere in Britain, including Devon and Cornwall.
The May timetables added a further layer of unpunctuality, as it quickly became clear that new timetables on Govia Thameslink Railway and Northern were unworkable, while services in several regions were disrupted by industrial action.
The number of trains officially late hit 12 per cent. This was the highest figure since 2006, when the figure was 14.2 per cent.
Campaigners and watchdogs have reacted by calling for reform, and the transport secretary is expected to announce a major inquiry into the structure of the railway on Thursday, with franchising itself possibly under review for the first time since 1995. It is reported that the inquiry will be led by the deputy chairman of John Lewis, Keith Williams,
The Campaign for Better Transport has urged the government to learn from 'recent mistakes.', while Transport Focus chief executive Anthony Smith said reliability was the 'key priority'.
The Rail Delivery Group said the industry was 'investing billions to ease congestion, reduce delays and minimise disruption,' and that it will support the forthcoming inquiry. Regional director Robert Nisbet said: 'We have been saying that the time is right for root and branch reform of the railway so that it can deliver more for passengers, communities, businesses and taxpayers.'