Posted 21st December 2015 | 5 Comments
Which? files 'super complaint' about train delays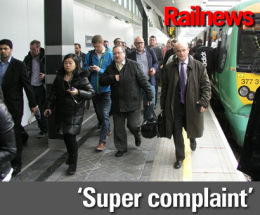 THE consumer group Which? has used legal powers to file a formal 'super complaint' with the Office of Rail and Road about the system of compensating passengers for train delays. Which? claims that passengers are still being let down, and that many staff are not explaining properly what rights passengers have after their trains have been delayed or cancelled.

The consumer group, which has the status of a 'super-complainant' under the 2002 Enterprise Act, said it had fielded mystery shoppers at 102 stations, where they asked 'basic' questions about delay compensation arrangements.

Which reports that In almost one in five cases the mystery shopper was given full details of how to claim a refund, but six out of ten enquiries left the mystery shoppers in the dark about their rights, and in three out of five cases the mystery shoppers were not told that they could did not have to accept travel vouchers, 'even after prompting'. In more than one in three visits, the researchers were either given no details or only part of the information they needed about how long a delay must be before a refund is due.

Which? concluded: 'The results show that not enough is being doing to remove the unnecessary barriers to claiming compensation for passengers.' On the back of this research, Which? said it is launching a campaign called 'Make Rail Refunds Easier'. It also wants train operators to be held to account more effectively if passengers are let down.

Which? executive director Richard Lloyd said: "Current proposals to improve compensation for passengers are too far down the track. Even if an automatic compensation system was included in all new franchises from tomorrow, it would take until at least 2025 to cover the whole network.

"Millions of passengers are left out of pocket each year, so train companies must do more to put their passengers first and make rail refunds easier."

The ORR responded: "Passengers must be at the heart of the railways and are crucial to its growth and success. They are entitled to compensation when they do not receive the service they have paid for. Compensation also acts as an incentive for the industry to deliver a better service.

"The rail industry has been working to improve overall standards of service for rail passengers. However, our research has shown that passenger awareness of how and when to claim compensation is low. The industry has recently taken positive steps – such as signing up to a Code of Practice on providing clear information to passengers when they buy rail tickets, which includes their compensation rights. We will be assessing whether more could and should be done for passengers as we investigate this complaint."
Reader Comments:
Views expressed in submitted comments are that of the author, and not necessarily shared by Railnews.
I am surprised they are called super compliants surely if the services are bad they are not super in any way!
[It's the legal term (strictly 'super-complaint') which applies to 'designated consumer bodies' (such as Which?). See Enterprise Act 2002, s11.--Editor.]

Well I am sure this is no surprise to the traveling public! What is a surprise is that MP haven't jumped on the bandwagon more to support Joe public?

Surely there should be clear and well defined process across all the train companies so that everyone is clear on that and TOC that don't comply are heavily fined? Can we see the current government do this probably not!

Having been presented with the super complaint ORR will have to be seen to have investigated and acted. Other than tinkering around the edges of the conditions of carriage & Code of Practice I forsee very little of substance to result.

Having attracted widespread publicity I suspect Which will be satisfied tnat tbey have highlighted that compensation is available from TOC's. As ORR conceed awareness for compensation is low so the Which campaign can only raise awareness.

Until the utopian dream of automatic compensation the reality will remain diverse compensation arrangements dependant on the circumstances pertaining to each TOC's franchise contract. If ORR can show resolve it will act through RDG to see that current best practice of delay repay & automatic compensation is consistently available through all TOC's irrespective of the franchise renewal cycle.


The Department for Transport are too bothered about gaining profit. Passengers should always come first – not profit!