Posted 5th July 2018 | No Comments
Regulator reveals causes of worsening South Western delays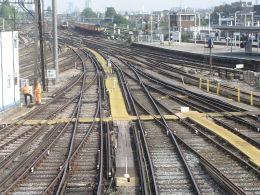 THE Office of Rail and Road has published its findings into disruption on South Western Railway, and they reveal poor communications with Network Rail as well as contingency plans which had not been updated for seven years.
The number of trains arriving on time dropped from 90.5 per cent in 2015-16, under the previous South West Trains franchise, to 84.3 per cent in the most recent statistical year, to April. The ownership of the franchise had changed in August 2017.
The ORR said 68 per cent of the delays in 2017-2018 had been caused by Network Rail, and it was this fact which had triggered the full investigation.
The number of incidents related to the network has remained stable recently, but the ORR found that it was also taking longer to restore normal services after an incident.
The reasons included old contingency plans, which had not been revised since 2011. Even then they were not always followed, so major decisions such as who should take the lead and what they should do remained uncertain. One example was that although there was a conference call after a fatal incident to discuss service recovery the relevant signalling centre was not included in the discussion.
Reviews of 'lessons learned' after an incident were not always carried out, and even when they were there was 'limited evidence' that the lessons were put into practice.
The ORR said Network Rail had accepted the findings.
The ORR's director of railway planning and performance Graham Richards said: "Passengers using South Western Railway have faced unacceptable disruption in recent months. When things go wrong, it is essential that Network Rail works efficiently to get back to normal service as quickly as possible.
"Our investigation found that Network Rail has not updated its processes to keep pace with the changes on the route. We will be looking closely to ensure it addresses our findings.
"We acknowledge that the performance issues on SWR are not down to Network Rail alone, and we have therefore shared our findings with Michael Holden to inform his review."
Transport Focus chief executive Anthony Smith said: "Passengers want a more reliable service and better information when things go wrong. While welcome investment is being made in South Western Railway, passengers need to be able to rely on the trains today. Network Rail and South Western must continue to work together to produce a more robust service. Passengers want to know lessons have been learnt."