Posted 18th July 2017 | 4 Comments
On time to the minute – or the train is late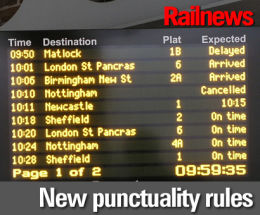 MUCH tighter rules measuring punctuality have been unveiled by the Rail Delivery Group, under which a train will only be considered punctual if it arrives within one minute of the booked time.
Such a change has been discussed for several years. The measurement will be in addition to the existing government definition of train punctuality, which requires arrival within five minutes at the final destination for shorter-distance trains, including most commuter services, and ten minutes for others.
As things stand, an intercity train from Edinburgh to London King's Cross which is 20 minutes late at Peterborough but makes up 11 minutes during the last stage of its journey would be reported as nine minutes late in London – and officially considered to be 'on time'.
Another change will be the introduction of punctuality measurement at most intermediate stations, which is currently technically possible for around four out of five calling points. The RDG said it will work to improve this figure before the new rules are phased in, perhaps by using GPS data.
The RDG said that in the most recent four week reporting period, between 28 May and 24 June, 64.8 per cent of trains arrived to the minute and 91.7 per cent arrived within five minutes.
The comparable measure for airline punctuality is within 15 minutes of the scheduled arrival time. The RDG quoted analysis by the consumer group Which? which showed that 74 per cent of inbound flights to United Kingdom airports manage this, while 98.4 per cent of trains reached their final destinations within the same margin over the past year.
The change will be introduced in stages. The RDG and individual operators are expected to start publishing the new data by April 2018, and passengers will be able to check the punctuality of individual services on the National Rail and TOC websites.
The next stage will come as Network Rail's new Control Period starts in April 2019, when NR will adopt the new standard. In addition, the 'within one minute' test is also set to be included in the performance benchmarks specified in future franchise contracts. Other measures to be published will include cancellations, 'average passenger lateness' and the proportion of trains arriving within 15 minutes of right time.
Industry leaders say that by adopting a more 'transparent' measure it will encourage 'an even greater focus on punctuality, which is consistently the highest priority for passengers'.
Rail Delivery Group chief executive Paul Plummer declined to be drawn on future levels of punctuality when he was interviewed on the BBC's 'Today' programme, but he pointed out that 'every minute counts'. He continued: "By adopting the most transparent measure in Europe, we want passengers to know that rail companies are putting an even greater focus on ensuring that trains are meeting the timetable, arriving to the minute and at stations along a journey. We are pushing ourselves to drive better punctuality because it will help to deliver a more reliable railway."
The new rules have been welcomed by the official passenger watchdog Transport Focus. Chief executive Anthony Smith said: "Passengers want a reliable, on-time train service. How that performance is measured and reported should, our research shows, closely mirror passengers' real life experience, otherwise trust will not be built up. So it is good to see the rail industry reporting on time performance at many more stations."
Reader Comments:
Views expressed in submitted comments are that of the author, and not necessarily shared by Railnews.
The only way to make this work is to slow down the passenger timetable a bit to include generous recovery time so every train is able to arrive at every station on time. Otherwise, even someone struggling to get an oversized case or shopping trolley onto a train somewhere along the line will cause trains to be late.....

I noticed today at Southend Central that train information on C2C was showing the time of arrival for every stop on next train expected .

Hmm, common sense could have told anyone that 'on time' means 'arriving at the time it was scheduled to arrive'. While this is certainly news to be welcomed, you really have to wonder why it's taken the RDG so long to unveil. In the old parlance, this new set of rules is right on time!