Posted 5th September 2018 | 7 Comments
Major franchising shake-up could be on the way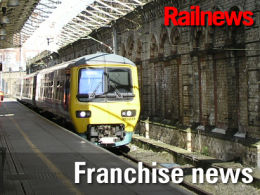 A MAJOR inquiry into rail franchising could be on the way, and reports claim it is set to be the biggest shake-up of the passenger railway since privatisation began more than 20 years ago.
The Department for Transport has declined to confirm or deny reports that transport secretary Chris Grayling wants an inquiry, saying only that 'We are absolutely committed to improving journeys and are always examining ways to improve how the railway serves passengers'.
Some sources are also suggesting that although Prime Minister Theresa May is said to be backing the transport secretary, there is no agreement within government about what should be done to reform the system.
Mr Grayling is under intense pressure after a disruptive few months which saw the collapse of the Virgin Trains East Coast franchise and then the failure of new May timetables on Govia Thameslink Railway and Northern. The fallout from that has been enough to cause most of the forthcoming December timetable changes to be postponed until at least May 2019.
Disruption has also continued as the result of industrial disputes over on-train staffing, with the RMT maintaining its determined stance against any removal of a second member of staff on board trains.
Last month, a letter from DfT agency DPTAC, which is concerned with passengers with disabilities, was revealed by a Freedom of Information Act request. This was written in April 2016, when Mr Grayling was warned that the combination of driver-only operation and unstaffed stations was 'toxic'.
Major disruption is continuing to be caused by industrial action on Northern and South Western Railway over DOO disputes, but it appears that Merseytravel and Merseyrail have retreated from their previous position by agreeing that all trains on Merseyrail will continue to carry a second staff member when the present fleet is replaced, two or three years from now.
More recently, Mr Grayling has triggered another storm by suggesting that if rail fares are to be increased by the lower Consumer Prices Index in future, rather than the discredited Retail Prices Index, then railway wage increases should also be based on CPI.
Franchising is struggling in other ways too. The franchising timetable continues to run behind schedule, delaying the renewal of franchises such as East Midlands, where a new contract should have begun in July. Southeastern, too, seems likely to be delayed.
There is also continuing pressure on the government from external sources.
The first chief executive of Network Rail has dismissed the present system of rail franchising as 'bust'.
Speaking in July in the wake of the Virgin Trains East Coast failure Sir John Armitt, who now chairs the National Infrastructure Commission, said: "The rail franchise companies, as we've seen, have to take very significant revenue risk, and that's got them into trouble, because the government will always go for the most optimistic forecast of revenue. That model, I think, is bust, and it needs to be reviewed, and a more appropriate sharing of risk on the railway needs to take its place."
Shadow transport secretary Andy McDonald has dismissed any attempts to simply 'tinker' with the present system. "Long suffering rail passengers don't need a review to explain to them that the franchising system is broken beyond repair. I can tell the Prime Minister now that no amount of tinkering will change the fact that rail franchising has failed, does not deliver and never will," he said.
He continued: "What we've heard just proves that this Government is blind to the best solution for improving the UK's railway, and the one that the public backs: Labour's policy of public ownership."
RMT general secretary Mick Cash said: "You don't need a body scanner to work out that this is just a transparent attempt by the Tories to try and kick the privatised chaos on Britain's train franchises into the long grass for a year. It won't work as it's clearly a desperate stunt by a Government clutching at straws which is ideologically opposed to the British people owning and running their railways.
"The only solution to the current rail franchise shambles is an end to private greed and a return to public ownership. RMT will be stepping up the fight to kick the spivs off the tracks."
The Rail Delivery Group, which represents train operators and Network Rail, has yet to comment.
Reader Comments:
Views expressed in submitted comments are that of the author, and not necessarily shared by Railnews.
Not surprising to see Shadow transport secretary Andy McDonald talking about renationalisation of the railways, I would counter that by asking why labour didn't do just that when they had the chance under Blair/Brown?

Personally I think the big problem with the rail sector is that there are far too many companies involved in providing the service, through franchising, contracting and sub-contracting.

Networkrail provides the track, another branch of NR provides signalling, another the power systems and yet another timetabling, which as we have recently seen, none of whom seem to talk to the other parts of NR. Then we have the TOCs operating the services, ROC's providing rolling stock with maintenance and cleaning sub-contracted out. Yet another sub-contractor takes care of revenue protection when TOC staff aren't used at larger stations. There are yet more sub-contractors maintaining the infrastructure for NR and so it goes on, each looking after their own 'bit' with no one apparently looking at the 'bigger' picture and the overall service deliverability except when meeting performance KPIs.

There seems to be little/no overall control and we now have to have enquiries and reports to find out who, if anyone, is actually responsible. In the meantime customers are paying the price for poor service, a price that is set to rise in January with no improvement or sense of 'value for money' to coin an often used government phrase.

I would suggest that whatever 'model' is used, it is much simpler, pragmatic and accountable, otherwise the same issues will keep arising, possibly with new ones also occurring.

My vote is switch to concession models (or at least something heavily modelled on it) for one reason, and one reason only: we know this works. The current franchising model is running into far too many problems, and whilst it's possible that a model can be found that is workable, my patience with tweaking the system are running into new problems is running out.

Once things have settled down, then we can look at something more adventurous.

Why not let the government take over the Northern franchise and to take control of the services and to prevent further disruptions, cancellations, delays and even strikes from happening that has affected all services operating across the North of England. Including rural villages and smaller towns that are been provided by the trains and railways have been cut off and replacement buses has made people less happier and had to endure couple hours journey to get to where they wanted.

Plus interchanging from replacement bus to trains. Including commuting to larger cities in the North of England such as Manchester, Liverpool, Leeds, York, Hull, Bradford, Newcastle, Middlesbrough and other destinations in the North of England and other destinations further away including London. The West Coast Railway group should of carried on providing their own local frequent service on the Windermere Lakes Line in Cumbria.

@ Tony Pearce Chiltern is the one that got away in that it was the only franchise let on a long term basis as promised when privatisation was announced and this has allowed it to grow and re-open lines on a railway that had almost closed forever pre Network Southeast days . It's franchise is due for renewal in a few years and I reckon another long franchise adding East West Rail could be an option provided DB retain franchise.

As for franchising well its bust with often only a couple of bidders for franchises and they are often foreign railways like DB or SNCF and who knows if they will continue to bid post Brexit?

The alternative to Franchises is Concessions as operated by TFL for its Overground network whereby TFL retain fares income and then pay somebody to operate services they specify on TFL behalf.

In fact expansion of London Overground to cover most London services and creating bodies like West Midlands Railways to operate local services may be best option .

Perhaps bringing together Inter City services might even be an option linkto opening of HS2 !

I have never heard a bad word about the Chiltern Franchise. Is it because they are run by the German nationalised DB, or because they compete with Great Western and West Coast from Birmingham, Oxford into London ?

Just what the industry needs another inquiry to add to the library of previous reports gathering dust on ministerial shelves. Assuming one is forthcoming and it produces recommendations to be acted on what chance of change before the next scheduled General Election in 2022!

All this reinforces is that we have a clueless ministerial team with no clear strategy or policy to to shape the industry's direction at just the time when a clear strategic vision is required to tackle the increasing financial stress the industry faces.