Posted 31st July 2018 | 3 Comments
Official letter describes 'toxic' nature of DOO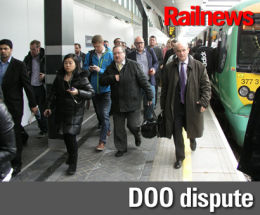 Updated 1 August with DfT response

A NEWLY-REVEALED official letter reveals that one government body was voicing doubts about driver-controlled operation of trains more than two years ago.
The letter, from the Disabled Persons Transport Advisory Committee, is addressed to the Department for Transport's managing director of passenger services Peter Wilkinson, and questions how 'older and disabled people, and particularly those who suffer from acute anxiety and mental health issues, can travel when there are effectively no customer service staff on the train or on the station'.
Various industry bodies, including the Office of Rail and Road, have repeatedly said that the absence of a second safety-critical member of staff on board a train is not a risk. The method is known as DCO or DOO (driver-only operation).
The ORR says: "We have concluded that with suitable equipment, procedures and competent staff, the form of train dispatch implemented by GTR-Southern fully meets legal requirements for safe operation."
However, it has emerged that the chair of DPTAC, Keith Richards, told Mr Wilkinson in April 2016: "We know that the toxic combination of driver-only operated trains and unstaffed stations fails to deliver a service that meets the needs of many disabled passengers. As a result DPTAC is seeking a guarantee that such policies cannot undermine the fundamental principle of accessibility – which would in any event be illegal."
No record has yet been traced of Mr Wilkinson's reply.
The principle of 'one driver, one train' was set out in the McNulty report of 2011. Its author Sir Roy McNulty was seeking to reduce costs, and one of his recommendations was: 'The default position for all services on the GB rail network should be DOO with a second member of train crew only being provided where there is a commercial, technical or other imperative.'
The report then went on to recommend 'early implementation of DOO where practicable'.
Advocates of DCO point to the successful operation of trains without a second member of staff on Thameslink, c2c (8-car trains), Chiltern Railways and many suburban routes of Greater Anglia, as well as the entire London Underground system and light rail in London Docklands and Tyne & Wear.
More recently, Southern, also part of Govia Thameslink, was converted to using 'on board supervisors' as a second member of staff on board rather than a trained conductor, who had previously been responsible for operating doors and dispatching trains. The changeover triggered a long series of damaging strikes, and the dispute has not yet been resolved.
The letter to Mr Wilkinson was obtained by the Association of British Commuters under the Freedom of Information Act.
The RMT is striking again today on South Western Railway, in a dispute over the staffing of trains. More walkouts have been called during August.
The union's general secretary Mick Cash said: "These documents show that the government's own advisors warned over two years ago that driver only trains are toxic for disabled and older passengers. This is a problem that will be exacerbated on companies like South Western where 70 per cent of stations are unstaffed.
"This revelation follows similar warnings contained in other documents that have been leaked from the industry. They are a massive concern, especially when we have an ageing population and one in five of the population reporting a disability. Despite this, the likes of South Western and their puppet master Chris Grayling, are pressing ahead with a callous and criminal disregard for the needs of vulnerable passengers."
The DfT responded: "Disabled passengers must have the same opportunities to travel as other members of society, and it is essential that the services they rely on are accessible and work for them.
"With modern trains the driver is responsible for operating the doors, leaving the second crew member free to spend more time helping passengers, including people who need assistance getting on and off the train.
"The Transport Secretary has been clear that with a growing railway we need more staff, not fewer. On Southern - the only operator to introduce these changes since January 2017 – there are now more trains that run with a second crew member than before the changes were introduced."
Reader Comments:
Views expressed in submitted comments are that of the author, and not necessarily shared by Railnews.
There is an apparent gap in responsibility. The ORR says "We have concluded ... the form of train dispatch ... meets legal requirements for safe operation." That is not the same as saying it delivers "a service that meets the needs of many disabled passengers". There is indeed some double-speak (= hypocrisy) when the DfT refers to "the second crew member" having pressed for DOO.
That is not to say the RMT is correct, since a second person on a train need not necessarily have the full duties of a traditional guard. Circumstances do alter cases, and there are some routes where there are requirements for guards, others for a second person, and yet others where DOO/DCO might be reasonable. Trouble is, no-one is being reasonable.

Thanks for the update from DfT. Do I detect some double speak in order to fit the narrative from the bunker?

If all's so fine why have customers from various TOC's been suffering on going disputes? Answer that franchise agreements have been made on the basis of DOO & single manning as per the recommendations of McNulty. In order to save cost the role of the guard was to be eliminated. Time to stop hiding behind commercial confidentiality and admit that contracts have been let on the basis of a reduction in head count. Scotland, Wales & now Anglia have agreed ways forward to resolve this manning issue. Time for these agreements to be used as a template for resoling the on going disputes & concentrating on the pressing issue of mending current performance.

Where cost saving should be addressed is the dysfunctional structure of the current industry. Too much value is extracted managing the contractual matrix for no benefit to the travelling public & taxpayer. DfT officials have squandered vast sums of money with failed WCML & ECML franchise awards. Who has been held accountable for this? Also it is apparent that several current franchises are increasingly unsustainable, the deferral of December timetable changes only adding to today's woes as additional franchise milestones become undeliverable.