Posted 17th August 2018 | 1 Comment
More SWR strikes after peace talks break down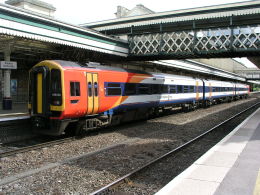 STOPPAGES on South Western Railway are going ahead tomorrow and into the first half of September, after talks between RMT and the SWR broke down. One walkout, starting on 31 August, will be for 72 hours.
Both sides have been levelling accusations and counter-accusations.
The RMT said the company had been making a 'mockery' of the negotiation over the issue of on-train staffing, which is also currently sparking strikes on Northern. The union also claims that the negotiating team fielded by SWR had 'no authority'.
SWR said it is 'extremely disappointed' and has labelled the new round of industrial action as 'totally unnecessary and pointless'.
RMT general secretary Mick Cash said: "RMT is angry and frustrated that the company's cavalier and contemptuous approach to talks leaves us no option but to continue our programme of industrial action. We know that passengers will share that anger.
"This week SWR have benefited from a fares windfall that will pump up their profits. They have plenty of money to employ guards on their trains and to sign off the guard guarantee the union has achieved elsewhere.
"South Western Railway seem to think they can treat the union and their staff with utter contempt. They need to change that attitude, get serious and put a team in place that can talk with us with authority on the safety, security and access issues at the heart of this dispute."
Strikes are now set to take place on 18 and 31 August, and also on 1, 2, 8 and 15 September.
South Western Railway said: "It is extremely disappointing that the RMT has yet again chosen to needlessly inconvenience our customers, and its own members.
"We are committed to resolving this dispute and earlier this week met with the RMT at Acas, reiterating our proposed framework agreement which centres around how we can better keep our customers moving during times of disruption. Despite the RMT agreeing to a similar deal with another train operator just a few weeks ago, the union has failed to explain to us, their members or our customers why such a deal is not acceptable on our network.
"The RMT executive's answer to every question is strike - they need to start accepting that the railway is modernising and that their members can play a key part in that future if only they stop calling for action and work with us to deliver a better railway for our customers.
"This decision is totally unnecessary and pointless – we cannot make it any clearer that our plans mean more not fewer guards, we have guaranteed to roster a second person on all our trains and we have guaranteed terms and conditions.
"We will continue to do everything we can to minimise disruption."
Reader Comments:
Views expressed in submitted comments are that of the author, and not necessarily shared by Railnews.