Posted 8th August 2018 | 4 Comments
London Mayor makes new bid for Southeastern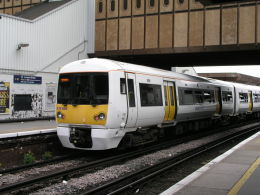 [Updated 9 August]

A FRESH bid to take over the suburban services of Southeastern has been launched by the Mayor of London, Sadiq Kahn.
The Mayor has previously tried to have more London suburban lines transferred to the Transport for London Overground network.
Now the Mayor has written to transport secretary Chris Grayling urging him to 'put the needs of thousands of long-suffering passengers first'.
Mr Kahn also points out that an award of the Southeastern franchise to one of three shortlisted bidders has already been delayed by three months and is not now expected until November. He described recent performance on Southeastern Metro routes as 'mediocre at best'.
The Mayor continued: "These passengers deserve so much better than they are currently getting and I believe now is the time for a fresh start. The Government could make the most of this delay by working with me to put passengers first by transferring responsibility for contracting these Metro services to TfL. Their expertise would provide the more frequent and reliable services these passengers are crying out for."
A transfer would trigger a conversion to Overground standards of station staffing, cleanliness, revenue protection and service frequencies. The routes would also be fully integrated with TfL's ticketing systems.
A spokesman for Southeastern said: "Decisions on the way rail franchises are structured and awarded are made by Government.
"We've invested £80 million to improve our services since 2014, including 68 extra carriages to boost capacity on our busiest services, nearly £5 million in station refurbishments, and new 'Customer Ambassadors' to help assist passengers with their journeys."
The first transfers of National Rail services to Transport for London occurred in November 2007, when the Silverlink Metro routes between Euston and Watford, Stratford and Richmond and Clapham Junction to Willesden Junction were taken over by TfL. There have been more transfers since then, most recently involving the West Anglia suburban lines from Liverpool Street.
Reader Comments:
Views expressed in submitted comments are that of the author, and not necessarily shared by Railnews.
Mr X TFL would only take over services that are either wholly in London or terminate just outside at Places like Dartford in similar style present Overground terminates at Watford or TFL Rail at Shenfield.

Longer distance services from Kent would be controlled by the DFT and subject to their policies on issues like fare increases etc.

Plans to transfer services to TFL and London Mayor were agreed when George Osbourne was Chancellor and Boris Johnson Mayor and change of polihas only arisen since Chris Grayling became Transport Secretary but the mess of franchises is forcing him to look at transfer of services to TFL !

Services taken over by TFL and London Mayor have seen major improvement with new trains, upgraded stations which are staffed for full hours of service and TFL uses Concession model where they receive ALL fare revenues and pay a company to operate services on their behalf allowing TFL to invest remaining revenues in upgrades !

[For information, the original London Overground concession awarded to MTR and Laing (later Arriva/DB) included a modest slice of fare revenue for the operator (I believe it was 10 per cent). That contract ended in 2016. I don't know if the present concession, held by Arriva alone, includes a similar provision.--Ed.]



No Sadiq. No cherry picking here. You either takeover the whole franchise or not. You can't expect the long suffering Kent commuters to be forced to change trains because their route is run by 2 operating companies. TFL has to bid to take over the whole Southeastern franchise.

Have you any examples of how the services that have been transferred to TfL have improved (or not) ? I presume that the services transferred did not require any subsidies to operate. If Khan can show that these services have improved then he has a point. If he can't it is 'party politicking'.
[Not sure who you are questioning, but there has been a dramatic increase of passenger figures on lines like the North London over the past decade, accompanied by extensive modernisation. Subsidy is probably beside the point -- neither Southeastern nor Transport for London make any net profits for the taxpayer.--Editor.]