Posted 20th June 2018 | No Comments
Chris Grayling survives confidence challenge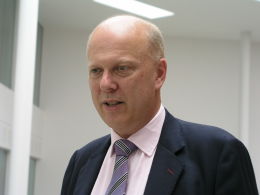 THE transport secretary Chris Grayling has survived a motion of 'no confidence' which was tabled in the House of Commons yesterday.
The Labour Party's motion had noted 'the failed implementation of the May rail timetables which has left thousands of commuters without services and has drastically affected their everyday lives; believes Northern and Govia Thameslink Railway should have their franchises terminated; and regrets that the Secretary of State for Transport has failed to strategically manage and oversee the UK railway'.
Labour's transport spokesman Andy McDonald, who had sponsored the motion, told MPs: "The Government seem to want to have control and intervene, but they do not want to take responsibility. GTR should have been stripped of its contract years ago for running the worst rail service in modern times. The company has repeatedly been found in breach of its contract as well as overseeing toxic industrial relations and poor customer service. Had the Government heeded Labour's call to strip the company of its franchise, the recent disruption could have been avoided."
Later in the debate, he added: "Senior officials directly interfered. Let us not forget that the managing director of passenger services at the Department for Transport, Peter Wilkinson, said two years ago: 'We're going to be having punch-ups and we will see industrial action,' and that he wanted to run people 'out of my industry'.
"The introduction of the May 2018 timetable required change on an unprecedented scale. The process of managing change requires co-operation, dialogue, engagement and good will. The Government and the management of Northern and GTR have destroyed their relationships with their employees. Millions of passengers in the UK are paying the price for the belligerence and the antagonistic approach of the Secretary of State."
Mr Grayling responded: "For years, the Opposition have demanded that the railways be renationalised and run by the Government, and they have claimed that they would be run much better if they were. Now it appears that they think the railways are already run by the Government, and that if something goes wrong, it is down to us. Frankly, I am going to let their confusion speak for itself and concentrate today on what really matters: getting things back into shape for passengers.
"I have commissioned an independent inquiry. This will be led by the independent rail regulator, Stephen Glaister, to examine why we are in this situation and to avoid it ever happening again. I have met the owners of the franchises and demanded that they improve their operational response, including, in the case of GTR, increasing its managerial capacity. Clearly, nobody wants us to be in the position we find ourselves in today, but let me be absolutely clear: everyone in my Department is as focused as we possibly can be on improving reliability."
The motion failed when the vote at the end of the debate resulted in 285 in favour and 305 against.