Posted 16th July 2018 | 4 Comments
Thameslink tries more new timetables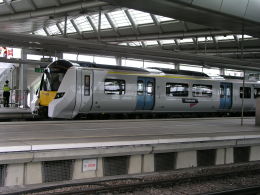 A THIRD set of revised timetables are being introduced by Govia Thameslink Railway. The operator has struggled to maintain its services since major timetable revisions on 20 May.
The new timetables are coming into operation for their first weekday trial today.
GTR marked the changeover by booking an advertisement in the Metro, which is the free newspaper distributed in the London commuter area, in which it apologised for the timetable problems.
An earlier replacement GTR timetable introduced on 4 June had limited success, with some cancellations and delays still continuing.
Meanwhile, the government has revealed that it has launched a review of the GTR franchise, which will be in addition to three separate inquiries into the timetable problems which have already been announced – one of them by the Office of Rail and Road.
Aylesbury MP and cabinet office minister David Lidington deputised for the Prime Minister for the weekly questions session in the Commons on Wednesday last week, when he said: "We have launched a review of Govia Thameslink which will report in the next few weeks, and if those findings show that Govia is at fault we won't hesitate to take action whether that's fines, restricting access to future franchises or stripping them of the franchise."
Meanwhile, there was some encouraging news for Northern passengers when the RMT called off a strike which had been announced for 21 July.
Northern is also operating temporary timetables at the moment, after problems following its changeover on 20 May.

The operator's deputy managing director Richard Allan said: "We are pleased that RMT has agreed to hold talks in a bid to resolve their ongoing dispute and has called off its strike action planned for Saturday 21 July, which means that customers can plan their journeys based on a regular Saturday timetable."
However, further strikes are set to be staged on South Western Railway in the continuing train staffing dispute there.
Strikes are planned for 26, 28 and 31 July, 4, 11, 18, 31 August and on 1 September.
South Western Railway said it was 'surprised' the union had named more strike days, 'especially at a time when families want to be out and about enjoying the summer holidays.'
It added: 'We will continue to seek a resolution and work hard to minimise any disruption to our customers.'
Disruption also affected Northern and Great Western Railway yesterday, because fewer train crews than usual had volunteered for Sunday shifts, according to the companies affected. There were several possible reasons, which included the final of the World Cup and also the start of school holidays in some areas. Trains were cancelled on a number of routes, with GWR losing services to the Cotswolds and the far south west as well as south Wales. Trains to Cheltenham, Penzance and Newquay were among those affected.
Reader Comments:
Views expressed in submitted comments are that of the author, and not necessarily shared by Railnews.
Why anyone would donate a slice of their hard earned wages to a trade union (and inevitably the Labour Party) in 2018 rather passes understanding.

Scrap Govia Thameslink Railway and let the government take over. GTR are a disgrace. Thameslink Southern & Great Northern shouldn't merge.

And the rumour is the rancid 700's are having their rock hard seats replaced!