Posted 11th December 2017 | No Comments
Chilly start for new West Midlands franchise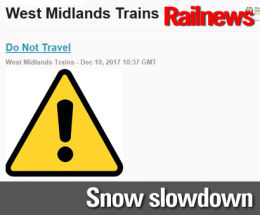 THE launch of the West Midlands franchise has been marked by cancellations and delays caused by snow in much of the new operator's area.
The Abellio-led franchise took over from Govia's London Midland at 02.00 on Sunday (10 December), but its first job was to advise its customers not to travel.
Poor conditions not only hampered trains but also made it difficult for staff to reach their depots over snow-clogged roads.
Monday saw some improvement but there were still warnings of 'significant disruption' south of Birmingham.
Schools were closed in Northamptonshire and adjoining counties as temperatures stayed around freezing. Trains between Milton Keynes Central and London Euston were delayed or cancelled, while there was no service between Watford Junction and St Albans Abbey. Services were reduced between Bedford and Bletchley.
Other operators also reported weather problems. Services continued to be seriously affected on Monday morning on GWR's Oxford to Worcester line and also on Chiltern Railways between Hatton and Stratford-upon-Avon, where the line remained blocked.
The new West Midlands franchise is operating under two brands. The main line services from London Euston are now London Northwestern Railway, while suburban services around Birmingham are entitled West Midlands Railway, a name reportedly chosen by the West Midlands Combined Authority.
The Authority has a greater say in the running of rail services from now on, as part of wider West Midlands devolution plans.
The West Midlands contract is being run by a joint venture led by Abellio, with Japan East Railway Corporation and Mitsui as minority partners.
A total of 107 trains have been ordered, valued at £680 million, which will be built by Bombardier and Construcciones y Auxiliar de Ferrocarriles. Bombardier will supply 333 Aventra vehicles formed into 36 three-car trains with a maximum speed of 90mph (145km/h) for metro services and 45 five-car trains capable of 110mph (177km/h) for outer suburban and long distance routes.
CAF will be building 80 diesel vehicles, formed as 12 x 2 car trains and 14 x 4 car trains, for local services around Birmingham.
However, Class 230 D-Trains from Vivarail will take over from the present Class 150s on the Marston Vale Line between Bedford and Bletchley. The Class 230s are rebuilt as diesels using redundant London Underground D78 District Line cars. It will be the first time that the Class 230s have been used in public service, after an earlier bid to introduce them on the route between Coventry and Nuneaton was thwarted by a fire on a test train.