Posted 7th April 2016 | 2 Comments
West Midlands shortlist announced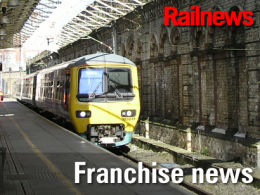 THREE companies have been shortlisted by the Department for Transport to run the next West Midlands franchise, which is presently branded London Midland.
They are the incumbent Govia (British, French), which is being challenged by two contenders. One is Abellio (Dutch) and the other is MTR of Hong Kong, which has most recently won the concession to run Crossrail for Transport for London.
Rail minister Claire Perry said: "The West Midlands franchise serves both commuters and long distance passengers and we are confident these companies will create high quality bids that can deliver better journeys for all.
"Today's announcement marks a key step forward in giving passengers improved services across the region and beyond."
The new operator is scheduled to take over in October next year, with the contract award expected in June. The current franchise covers a combination of commuting and long-distance services in the West Midlands, South East and North West.
The new Midlands Connect partnership of local authorities wants to take a hand in choosing the next operator and also possibly refining the network it serves. Transport campaigners in Warwickshire fear that Midland Connect would like to transfer all Stratford-upon-Avon services to the future West Midlands franchise, which would mean the withdrawal of the town's surviving trains to London operated by Chiltern Railways.
One member of Midlands Connect, the West Midlands Integrated Transport Authority, unveiled proposals for two franchises to serve the region in late 2014. These would have been a 'West Midlands Rail Contract' to run local services in the West Midlands and a separate 'West Coast Connect' responsible for London commuter and regional West Coast Main Line services, some of which run through the West Midlands.
The Department for Transport also announced today that the joint consortium of East Japan Railway and Mitsui & Co has been awarded a new Pre-Qualification Questionnaire Passport. The Japanese consortium joins the Department's list of 'Passport Holders' who are eligible to express an interest in all forthcoming rail franchise competitions over the next four years.
Reader Comments:
Views expressed in submitted comments are that of the author, and not necessarily shared by Railnews.
I understood that the Abellio bid is in conjunction with the East Japan Railway and Mitsui.
[Yes: EJR and Mitsui are minority partners.--Ed.]