Posted 17th July 2017 | 4 Comments
West Midlands award slips back again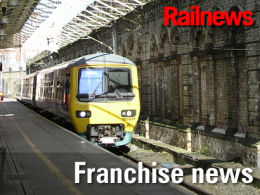 THE delayed West Midlands franchise award has slipped back once again, and the present London Midland franchise could now continue until February 2018.
The franchise should have been awarded last month for an October start, but transport secretary Chris Grayling has asked LM's owner Govia to continue for at least eight weeks longer. A decision about a further extension from December to February will be made next month.
Govia, which is a joint venture of Go-Ahead Group and Keolis, is shortlisted for the next contract. Its only rival is Abellio, in partnership with East Japan Railway and Mitsui.
MTR was also shortlisted for West Midlands in April last year, but withdrew from the competition without publicity two months later.
The news of the delay has come from Govia rather than the Department for Transport.
London Midland managing director Patrick Verwer said: "This announcement means we can continue to build on the successes of the last five years that have made this an international award winning franchise. Our focus will remain on delivering the best possible service to our passengers, each day and every day. This approach is already producing high levels of customer satisfaction. During the months ahead we will continue to work with the DfT and all our stakeholders to ensure a smooth transition for the awarding of the new, long-term, franchise."
The London Midland franchise began in 2007 as a partial replacement for Silverlink and Central Trains, and the original end date was to be 19 September 2015.
This was then extended to April 2016, as provided for in the contract. London Midland announced a further extension to October 2017 on 26 March 2013, and this was confirmed as a Direct Award on 3 December 2015.
Reader Comments:
Views expressed in submitted comments are that of the author, and not necessarily shared by Railnews.
Andrew. If you read the article properly, you will note that the only other shortlisted bidder is Abellio, in partnership with East Japan Railway and Mitsui. The other you mentioned may not have even submitted bids.

I thought is was only Abellio with their hat in the ring other than Govia Andrew...
[It is. Andrew likes to think big ... Editor.]

Still 8 weeks is not long enough for Govia to keep on maintaining and operating the West Midland rail franchise. And Govia are in pressure with more strikes happening on the Southern rail franchise (TSGN franchise).

Trenitalia, Abellio, Arriva and other bidders could take over the West Midland rail franchise when Govia/Go-Ahead does loose the WM franchise after the 8 week extension.