Posted 1st August 2016 | No Comments
London Midland and Transport for West Midlands sign deal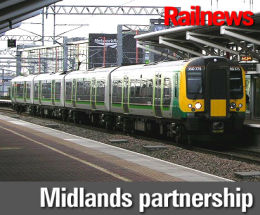 A PARTNERSHIP contract has been signed by the London Midland franchise and the recently formed TfWM -- Transport for West Midlands -- which replaced Centro in June as the transport body for the region.
The London Midland franchise may have only just over a year to go because it is scheduled to be replaced in October next year, although an extension of up to 12 months is possible.
Centro had already made a pitch to central government for a fully devolved West Midlands Rail Contract to be created, which would transfer management of the next franchise to the region following the examples of Merseyside, London, Wales and Scotland.
The new partnership focuses on a 45-point plan, which London Midland said would 'build on past successes and deliver further local improvements'.
In particular, services on the Chase line between Birmingham New Street and Rugeley Trent Valley are set to be improved following electrification, while London Midland and TfWM will agree a schedule of capital projects which they will aim to deliver jointly. The schedule will include at least the existing projects for Stratford-upon-Avon and Longbridge.
Other areas in line for improvements include the Midland Metro at Birmingham New Street, the redevelopment of the interchange at Wolverhampton station, which is set to be served by Midland Metro with an extension of the tram line from St George's, and identifying suitable locations for more park and ride sites at stations.
There is also a pledge to provide more wi-fi on passenger services, improve ticket machines at stations and improve CCTV on trains.
Transport for West Midlands is the transport arm of the West Midlands Combined Authority. Cllr Roger Lawrence, transport lead for the Authority, said: "Demand for rail services is as high as it has ever been so it is crucial we work together to develop and extract the maximum benefits from the network for the passenger.
"I am confident this joint agreement will be good news for passengers as it cements the good work that has already been done and sets out the foundations of further improvements."
London Midland managing director Patrick Verwer said: "We have a strong history of working in partnership in the West Midlands.
"The improvements we are planning to introduce over the next 15 months are based on what local people have said are important to them.
"These are exciting times for the region. London Midland has supported the idea of devolution as it helps us get closer and respond more quickly to the needs of local rail users."