Posted 25th October 2017
RMT makes widest strike call yet over DOO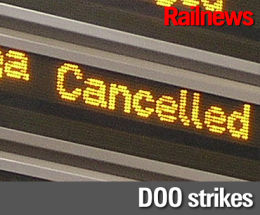 THE RMT has called a new series of strikes over train staffing disputes for the second week of November, and five operators will be affected simultaneously for the first time.
Both sides have accused the other of failing to negotiate constructively.
RMT members are set to strike on Greater Anglia, Southern and South Western Railway throughout 8 and 9 November, while there will also be a one-day walkout on Northern and Merseyrail on 8 November.
The operators have yet to publish their strike day timetables, but judging by previous occasions Greater Anglia and Southern seem unlikely to be seriously disrupted, because Southern can run its services as DOO during industrial action, while Greater Anglia has trained office staff to act as conductors on the 40 per cent of its services which carry them, in the face of protests from the RMT.
South Western Railway will be affected by a strike for the first time since the franchise began in August, and a company spokesman said: "Should this strike go ahead, we have contingency plans in place and we will do everything we can to minimise disruption."
On previous strike days, both Merseyrail and Northern have run reduced services during the day, with no trains after 19.00.
Merseyrail deputy managing director Andy Heath said: "Just a few weeks after the last round of industrial action, the RMT has announced it will strike again, targeting commuters and leisure-travellers alike. We will do all we can to provide as comprehensive a service as possible."
The union has been pursuing a determined campaign against changes to the duties of safety-critical conductors since it launched its first DOO strike on Southern in April last year.
RMT general secretary Mick Cash said: "Every single effort that RMT has made to reach negotiated settlements in these separate disputes with the different train operating companies over safe operation and safe staffing has been kicked back in our faces and we are left with no option but to confirm a further phase of industrial action in early November.
"It is frankly ludicrous that we have been able to negotiate long-term arrangements in Scotland and Wales that protect the guards and passenger safety but we are being denied the same opportunities with rail companies in England. This suspension of normal industrial relations by the employers has to end if we are to make progress towards a solution that guarantees safe rail travel for all. RMT is in no doubt that it is the dead hand of the minority Tory Government that is interfering in these disputes to block negotiated settlements."
Operators also say they want to resume talks.
Northern's deputy managing director Richard Allan said: "We are prepared to guarantee jobs and pay for conductors for the next eight years if we can reach agreement on how our colleagues deliver better customer service. We remain available for talks that are meaningful and clearly focused on how we deliver better customer service in the future," while Andy Heath of Merseyrail said: "The union claims to be open to talks, but failed to respond to our most recent offer of a meeting."
Greater Anglia said: "We value our conductors highly and have guaranteed their jobs until the end of the franchise in October 2025. In fact, we will be recruiting additional conductors as we are replacing all our trains from 2019."
Southern's parent Govia Thameslink Railway said it was very disappointed, and accused the RMT of 'refusing to engage with it', while SWR said: "This action is both premature and unnecessary. We have not yet made a decision on how best to operate our new fleet of trains – trains that are not due to be in service for two years, and the way forward is to discuss how we operate them for the benefit of our passengers with our employees, and the union. RMT bosses aren't acting in the best interests of its members on the ground in SWR, who have said that our recent discussions have been open and productive. We urge the union to get back around the table."
The Rail Delivery Group, which represents train operators, has also condemned the new walkouts.
Chief executive Paul Plummer said: "Passengers, communities and the economy want investment to improve journeys now and for the long term, and this will mean more jobs, not less, on top of the 50 per cent increase in train company staff in the last twenty years. Britain's rail companies are working together to keep the nation moving and support the economy while RMT strikes seek to disrupt a vital public service that millions of people rely on every day. The union should call off the strikes and get back to constructive talks."