Posted 3rd October 2017 | 5 Comments
RMT urges Theresa May to intervene in disputes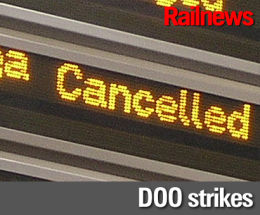 STRIKES are under way at four train operators in England today, as RMT members walk out in the continuing disputes over on-train staffing. The union's general secretary Mick Cash has urged the Prime Minister to intervene, pointing to agreements to keep a second member of safety-critical staff on trains in Wales and Scotland.
The worst affected networks are Merseyrail and Northern, where services will be limited during the day and will cease by 19.00. On Merseyrail there will be no trains to Ellesmere Port, New Brighton or Kirkby, and there will also be an interval with no services on other lines during the middle of the day.
Southern, where the driver-only disputes began in April last year, expects to run a near-normal service. However, there are no Southern trains to Guildford and limited services on a few other routes, such as the West London line and the Coastway lines.
The fourth operator, Greater Anglia, is included in the strikes for the first time, but expects to run a full timetable because it has trained other staff to cover the 40 per cent of its services which need a conductor. Some disruption early today was not caused by the industrial action but a signalling fault between London Liverpool Street and Stratford. All lines were reported to have reopened by 09.30.
RMT general secretary Mick Cash said: "It is clear that there has been a co-ordinated blockade of the normal talks process with the rail companies in England since Theresa May became Prime Minister and that is stopping us from reaching the kind of negotiated settlements we were striking before she entered Downing Street and which we have been able to agree in both Scotland and Wales.
"It is also clear that some of the rail companies themselves are frustrated at being used as political pawns and are being given a centralised script to read out to us in meetings. That points to politically motivated sabotage of the normal industrial relations machinery and RMT believes that it is being orchestrated right from the very top.
"The action that is disrupting rail services this morning has been forced upon us by a Government which appears to be hell bent on confrontation. My call to the Prime Minister is simply – call off the blockade on talks, end the centralised sabotage of the normal industrial relations process and let us get back into genuine negotiations with the private rail companies that allow us to resolve these disputes."
Rail minister Paul Maynard said: "The RMT should stop using passengers as pawns in their political game, call off this strike action and return to talks.
"This dispute is not about jobs as all the companies have guaranteed posts and I have been clear I want to see more people working on the railways, not fewer.
"It's not about safety either as the independent regulator has ruled that driver-controlled trains are safe."
The Rail Delivery Group has also condemned the latest action. Chief executive Paul Plummer said: "Train operators are doing all they can to keep vital services running because jobs, businesses and passengers deserve and need a long-term investment and improvement plan, not short-term opportunistic strikes by the RMT leadership intent on dragging the country backwards."
Today's strikes are set to be repeated on Thursday, when ASLEF drivers on London Underground will also walk out in a separate dispute over working conditions.
Reader Comments:
Views expressed in submitted comments are that of the author, and not necessarily shared by Railnews.
This type of dispute was settled on Scotrail many months ago - the driver opens the doors, whilst the doors are closed by the conductor / guard ( where the safety hazards are at their most ).

Can't something similar be appplied on Southern, etc? Or am I just being "politically naiive " ?

Hope that Greater Anglia won't be planning for more strikes to happen. Even from next year. Hope not.

Pointless waste of time, I'm afraid.
RMT had a half-reasonable case to start with, & then proceeded to mishandle it in almost the worst way possible, losing sympathy & support all down the line ....
Couple this with an, erm, "unsympathetic" management & what appears to be a willy-waving contest which the government, oops "Southern," appear to have won hands down. I'm sorry to say the time appears to have come to surrender with the best grace they can muster.

Mr Dalgliesh raises exactly the points that should have been put forward more strongly, together with the suggestion that what should have been done was a thorough survey of every single affected station, its' layout & sightings, etc.
Yes, this would have taken years, but so ... ? A solution could have been arrived at.
Now we merely have recrimination & bitterness.

The RMT don't really want meaningful negotiations, or compromise on these issues, they're merely searching around for someone in high authority that might be prepared to concrete to virtually all their demands .

As a Driver working for Southern (part of which is now GTR ) with 27 years experience....two of which was as a Guard.....I find it disgusting that it is played down about the CCTV onboard the trains are substandard,and were reported by the RSSB to be upgraded before being endorsed safe.....this has not been done....and when DOO was enforced apon the whole system, I made the decision to retire EARLY....at 60 years of age....as I did not want to end up in prison...charged with manslaughter ...thank you very much....