Posted 10th August 2017 | No Comments
RMT voices new staffing concerns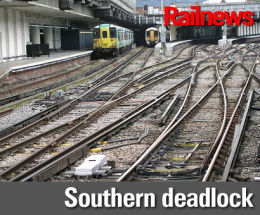 THE RMT says it is demanding 'urgent talks' over staffing with Abellio and its partners after they were named as preferred bidders for the next West Midlands franchise by the Department for Transport. The joint venture, led by Abellio, is set to take over from Govia's London Midland in December.
The union is also seeking more information about plans for on-train staffing on the new South Western franchise, which starts on 20 August.
RMT general secretary Mick Cash said: "RMT is demanding urgent talks with the Abellio West Midlands consortium over the guards, ticket offices and station staffing. The union has already made it clear that we will fight any moves to de-staff trains and stations on the new franchise and we will be looking to secure assurances from the company before they take over in a few months' time.
"On a separate but related matter RMT is aware that the new head of South West Trains has told the BBC that he will guarantee a second member of staff on their trains when they take over next weekend. We will be meeting with the company next week to clarify just what they mean by that commitment and to ensure that the long-standing agreement on guards on South West Trains is adhered to."
The union is still in dispute with Govia Thameslink Railway, Merseyrail and Northern over driver-controlled or driver-only operation, and in the past 24 hours has called for transport secretary Chris Grayling to stage an 'urgent intervention' in the GTR/Southern dispute.
Talks between the RMT and Southern over DCO/DOO on Monday (7 August) failed to make progress, and GTR human resources director Andy Bindon is reported to have said: "No agreements could be reached and no further talks are currently planned with the RMT."
Mick Cash told the BBC: "It is crystal clear now that the only way forward is to get all parties around the table – the unions, the company and the Department for Transport as the contract-holders – with everything on that table and with a clear will on all sides to resolve the dispute. Chris Grayling is in a position where he can broker those round-table talks and he needs to do so as a matter of urgency."
The Department for Transport responded: "We are doing everything we can to resolve the situation. We held constructive meetings with both ASLEF and the RMT which paved the way for GTR and the unions to restart their negotiations.
"We hope their discussions can bring an end to this dispute."