Posted 20th September 2017 | 3 Comments
Latest rail strikes condemned as 'opportunistic'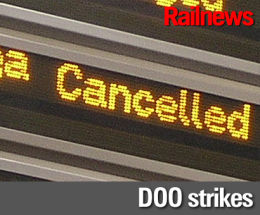 A NEW wave of strikes called by the RMT in the continuing disputes over train staffing has been condemned by the Rail Delivery Group as 'needless' and 'opportunistic'.
Two 24-hour walkouts are being staged by the RMT on 3 and 5 October, affecting four operators simultaneously for the first time.
Services are set to be disrupted on Greater Anglia, Merseyrail, Northern and Southern, as the debates continue about the extent of DCO or DOO working.
General secretary Mick Cash said: "RMT is bitterly disappointed that Southern and the DfT continue to reject our call for round table discussions involving all parties with an interest in resolving this dispute. The failure to get those talks moving following our face to face meeting with transport secretary Chris Grayling has left us no option but to call further action." He added that his union also remained available for 'meaningful discussions' elsewhere.
Some of the operators affected have also expressed their disappointment at the continuing deadlock. They include Greater Anglia, which has pledged that all its conductors' jobs are guaranteed until the end of the current franchise in 2025.
Merseyrail managing director Jan Chaudhry-van der Velde pointed to a major programme of improvements being carried out by Network Rail at Liverpool Lime Street during the first three weeks of October. This will include closures and diverted services, but the result will be a significant capacity boost to deal with future growth. Peak time demand at Lime Street is expected to have doubled by 2043.
Mr Chaudhry-van der Velde said: "We are busy trying to build a better city region with an improved railway. The RMT seem to be doing everything in their power to destroy this work. Don't they want Liverpool to succeed?"
Northern's deputy managing director Richard Allan said: "RMT continues to reject our offers to talk and we are disappointed that the union has called further strike action. We are still prepared to guarantee jobs and current pay for all our conductors for the next eight years."
The new industrial action on the Southern routes of Govia Thameslink Railway will be the latest in a series of walkouts which began in April last year. The dispute over DOO and DCO on Southern services has been running longer than any other, but repeated attempts at conciliation have failed.
GTR chief operating officer Nick Brown said: "Modernisation is urgently required to future-proof and increase capacity on this, the busiest part of the UK railway, where passenger numbers have doubled in 12 years. The RMT needs to play its part if passengers are to benefit from service improvements."
Government, too, has stepped in again, with rail minister Paul Maynard accusing the RMT of playing 'political games'. Urging the union to call off its action, he said: "This is not about jobs, as I have been clear I want to see more people working on the railways, not fewer. It's also not about safety, as the regulator has ruled that driver-controlled trains are safe."
The Rail Delivery Group, which represents the operators affected, also called for a new approach. Chief executive Paul Plummer said: "What our customers and the whole of Britain needs is one railway, one team working together to deliver better services now and for the long term – not more needless, opportunistic strikes. Train companies are working together to keep Britain moving and support the economy while the RMT leadership is playing politics with a vital public service that millions of people rely on every day. The union should call a halt to the strikes and get back to constructive talks."
Furher disruption will occur in London on 5 October, when ASLEF members on London Underground are set to walk out for 24 hours in a separate dispute over working conditions.

Reader Comments:
Views expressed in submitted comments are that of the author, and not necessarily shared by Railnews.
If the definition of insanity is doing something over and over again and expecting a different result, then the RMT have really shown themselves to be so in the Southern case, especially as it has so little effect on their services now.

The RMT members should be directing their anger at the utter incompetency of Cash and their leadership, they have handled this terribly both politically and on a PR basis. Even more so in comparison against a louthsome company such as GTR Southern. Hope the ASLEF deal that is close in the Southern dispute buries the RMT where they belong.

So both sides are claiming that they're willing to talk, and "it's them other lot wot won't engage with us". Basically it's all a load of BS, isn't it?

Bonus points for the RDG chief exec unwittingly setting out his vision of a renationalised railway: "What our customers and the whole of Britain needs is one railway, one team working together to deliver better services now and for the long term." ;-P